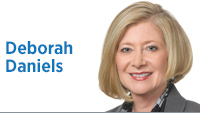 The Indiana Fever are a treasure of this community. Winner of the 2012 WNBA championship and in the playoffs 13 times since 2001, the team has always been exciting to watch.
Granted, the team took a hit when Tamika Catchings, four-time Olympic gold medalist and one of the most talented players in WNBA history, retired in 2015. The WNBA has lost some luster, perhaps because, at least elsewhere in the country, women's contributions are not valued.
But Indiana is different—and not just because we're a basketball state.
Think about the significant achievements of women in Indiana. Four of our six statewide office holders are women (Lt. Gov. Suzanne Crouch, Secretary of State Connie Lawson, Treasurer Kelly Mitchell, Auditor Tera Klutz). The chief justice of the Indiana Supreme Court, the chief judge of the Indiana Court of Appeals, the chief judge of the U.S. District Court for the Southern District of Indiana, the chief bankruptcy judge, and the chief judge of the 7th Circuit Court of Appeals are all women. Of the nine members of the Indiana delegation to the U.S. House of Representatives, two are women. (And they are also two of the only 13 Republican women in the entire House.)
Allison Melangton is senior vice president of Hulman Motorsports. Michele "Mel" Raines is senior vice president of operations for Pacers Sports & Entertainment. Kelly Krauskopf is the first-ever assistant general manager of an NBA Team (our Indiana Pacers).
In short, Indiana values strong, capable women. And the Fever, embarking on their 20th season, just got super-charged in that department.
Pacers Sports & Entertainment recently announced two exciting appointments: Allison Barber, former chancellor of Western Governors University of Indiana, is the new president and COO of the Fever, and Tamika Catchings returns full time to the team as vice president of basketball operations.
Barber is best described as a force of nature. A former deputy assistant secretary of defense and White House global communications aide, she launched WGU-Indiana in June 2010 with 250 students. It is now in all 92 counties, with more than 6,000 graduates and more than 7,000 current students—an explosive growth rate of 2,700%. WGU is now the largest teachers college in Indiana and the state's third-largest MBA program.
Barber is creative, strategic and dynamic, and brings an entrepreneurial approach to the Fever, as she did with WGU. She has already brought Tom Hanks and former Sen. Elizabeth Dole to Indy for a moving tribute to the families who care for wounded veterans, even inveigling Hanks to make a pitch for the Fever.
Everyone knows Catchings is a champion—one who has demonstrated her dedication not only to the Fever, but also to our state, its women and its youth. She has a huge heart and an engaging personality and she, too, is an entrepreneur. (Have you been to Tea's Me?)
Her Catch the Stars foundation, along with her star-studded career, has impacted the lives of countless young people, infusing them with the Fever's culture of commitment, contribution and competitive spirit and her own indefatigable can-do attitude. Her world-class understanding of the game and direct involvement in basketball operations will, I predict, lead to many future championships.
In April, Salesforce announced that it will sponsor the team—a dramatic demonstration of its faith in the team and its leadership.
We are about to see some Fever fireworks. The 2019 season is underway. Get out to some games and catch the Fever!•
Click here for more Forefront columns.
Please enable JavaScript to view this content.