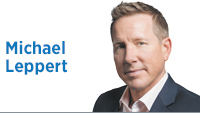 The third Sunday in June is designated as Father's Day in America. And it has been since President Richard Nixon made the final necessary declaration on April 24, 1972.
I bet he got some needed political bang out of that during an election year. Of course, who knew the failed break-in at the Watergate was less than a couple of months away, on June 17? No, Father's Day that year wasn't until the next day.
Nixon's legacy likely has no impact on why Father's Day is, and likely always will be, a second-rate holiday compared to its inspiration: the coveted Mother's Day. Let's face it, moms have a better holiday than we do.
This year, Americans are expected to spend $16 billion on Father's Day gifts, lagging moms' $25 billion take by a solid mile or two. I think that's fair. There wouldn't even be a day for dads if its founder had not been inspired by the day for moms. See, moms do have to do everything.
Sonora Smart Dodd began working to establish a holiday to honor all fathers after hearing a Mother's Day sermon in 1909. On June 19, 1910, Dodd's home state of Washington was the first to celebrate Father's Day statewide. She was one of six children raised by her father, a widower and Civil War veteran named William Jackson Smart.
Now, some would say the actual first event explicitly honoring fathers occurred two years earlier. July 5, 1908, was the date of an event held in West Virginia to memorialize 362 men who died in a coal mine explosion in nearby Monongah.
Of course, that was also the year West Virginia native and Mother's Day founder, Anna Jarvis, inspired the first commercial celebration of the now-dominant holiday at the John Wanamaker department store in Philadelphia. It seems those from the Mountaineer State love their parents more than most. At least they did a century ago.
I am a dad, and I definitely endorse my holiday. I was one of seven children, so I grew up not thinking much about birthdays. In my house, my birthday was one of three that week every year. So, I need Father's Day after the horror of my birthday-less youth, right?
Having made that clear, I still am more concerned that my two adult sons might forget Mother's Day than I am about my day. In today's world of fairness, there really shouldn't be one holiday without the other. President Bill Clinton tried and failed to create a "Parents Day" for late July. But let's be honest, that was a lame idea and it's OK that moms are just more important.
But I am having my day, anyway. This year, I am going to see Harper Lee's "To Kill A Mockingbird" on Broadway. Like the inspiration of the founding of Father's Day, the story's lead character, Atticus Finch, is also a widower. Finch is raising a couple of children in a fictitious rural county in Alabama while providing a legal defense to a wrongly accused black man. The story is told by his 6-year-old daughter, nicknamed "Scout."
The story is full of lessons all dads should teach on compassion and human dignity.
Days that dads can teach those lessons are the best days they will ever get. At least they are for this dad.
Of course, having my boys bring me a Giordano's deep-dish pizza over to watch the U.S. Open at Pebble Beach on TV on Sunday night with me and my wife is awfully good, too.
Again, though, I'm pretty sure Mom is buying.•
Click here for more Forefront columns.
Please enable JavaScript to view this content.