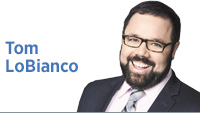 Maybe President Donald Trump hit the nail on the head a little more than he intended when he insulted South Bend Mayor Pete Buttigieg last month.
After he slapped the "Alfred E. Neuman" tag on Buttigieg, the surprise Democratic contender turned around and did his best Neuman impersonation—shoulders shrugged, wide smile, saying he had to Google the president's reference. The implied counterpunch from Buttigieg, whether intentional or not, was that Trump was old and out of touch.
It seemed like exactly the type of thing worry-free Neuman used to do in classic Mad Magazine clips—smiling while dodging wild haymaker punches from powerful, and comically befuddled, figures. (Can you tell I was a Mad fan as a kid?)
A little more than a week after that first insult from Trump, Buttigieg walked into Trump's arena—a town hall hosted by Fox News in New Hampshire. Fox News anchor Chris Wallace asked Buttigieg one of the most pressing questions at the center of the Democratic primary: "How would you handle the insults, the attacks, the tweets and all of that?"
"The tweets are—I don't care," Buttigieg said. And the Fox News live audience laughed and applauded. And they laughed even more when Buttigieg slipped the knife in again, "It is the nature of grotesque things that you can't look away."
But there's some evidence that the country is looking away, or at least tuning out some of the wilder presidential insults.
"It's a sign that his strongest communication tool may be losing its effectiveness and that the novelty has worn off," wrote Axios reporter Neal Rothschild, a week after Buttigieg's Fox town hall. Rothschild cited an analysis from social media group CrowdTangle, showing the ratio of retweets and likes to Trump's Twitter followers have fallen off precipitously in the last three years. In other words, fewer people are amplifying Trump.
Some of that probably has to do with the natural dynamics of campaigning and something Buttigieg has highlighted with his recent performances.
Trump's insults worked best for him when he was "punching up," so to say, trying to tear apart the pack leader—Jeb Bush, Ted Cruz or Hillary Clinton, all people who had the edge over him in national polling.
It's a truism of campaigning that the (relatively) unknown challenger needs to draw attention—and picking fights is a time-honored political tradition. When Trump was picking fights in the 2016 election, he was keeping the national attention (and TV cameras) focused squarely on him—trading on the standing of his opponents to build up his own recognition with voters.
But that all changed early in the morning of Nov. 9, 2016, when Trump won the election. All of a sudden, he became the one commanding all the attention—and now having something to lose to hungry challengers.
His style might be street fighting, and he might be hard-wired to tweet like Andrew Dice Clay, but now he's giving away the power of his office. Attention is oxygen for political challengers, and Buttigieg might be a media phenomenon, but he is still relatively unknown compared to Democrats leading the pack right now. (Monmouth University's May 23 poll of the Democratic primary found that almost 60 percent of voters either did not know Buttigieg or had no opinion of him.)
So what's to worry when the president of the United States is giving away the spotlight?•
Click here for more Forefront columns.
Please enable JavaScript to view this content.