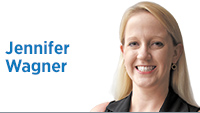 I'm going to start this column with a prediction my fellow Democrats won't appreciate: It's very likely Indiana Gov. Eric Holcomb will be re-elected next year.
His approval ratings are consistently above 50%, and he'll likely be on the ticket—again—with President Trump and Vice President Pence. There's no doubt their nearly 20-point margin of victory in 2016 helped Holcomb prevail.
Now that that's out of the way, I want to send a clear message to every Democrat who's looking to get in the field against Holcomb: Do it.
State Sen. Eddie Melton, who hails from northwestern Indiana, has already announced an exploratory committee. There are rumblings that state Rep. Karlee Macer and former state health commissioner and business executive Dr. Woody Myers are eyeing bids. It sounds like two-time gubernatorial candidate and former House Speaker John Gregg hasn't ruled out another run. What will former 9th District Rep. Baron Hill do? Heck, if South Bend Mayor Pete Buttigieg doesn't win the presidential primary, he could come back and run statewide.
You can't win if you don't have a candidate, and this race presents an incredible opportunity for us to push beyond generic talking points into Big Idea territory—much like what we're seeing among Democrats on the national stage.
But here's the rub: We actually have to come up with big ideas. And by we, I mean the candidates who jump into the ring against Holcomb. (Confession of a former political party flack: Parties don't actually have much ability to set an agenda or push policies; the people who run under a political banner do.)
As the minority party, we spend a lot of time criticizing what the majority party is doing. And that's fine. You have to draw that contrast. But once the contrast is drawn, you have to make a credible argument that you can do the job better. That's hard to do when the playing field is flat. It's even harder in a red, red state like Indiana.
Still, there are two reasons we need to try: First, we just might win. You never know what the next 18 months will bring, and we have to be prepared to govern.
More important, we owe it to Hoosiers to show we can put good ideas on the table. Who knows? Some of them might become policy even if we don't win.
(I once had a crazy, back-of-the-cocktail-napkin notion that former Gov. Evan Bayh's 21st Century Scholars program could be adapted to motivate college students to pursue careers in K-12 education. House Speaker Brian Bosma ran with it, securing funding and unanimous support for the program.)
If we want to lead again, we have to show we can do it. And honestly, because our chances of winning are not great, we can talk about whatever we want to talk about. Let's start a conversation about environmental issues, criminal justice reform, adoption rights or whatever else comes to mind. And let's propose solutions that are bold and innovative—even if they violate the unwritten Hoosier political rule that you can't win if you propose new spending.
I hope every potential candidate mentioned here—and more that we don't yet know about—jumps into the race and starts a robust conversation. That kind of dialogue can only help move our state forward.•
Click here for more Forefront columns.
Please enable JavaScript to view this content.