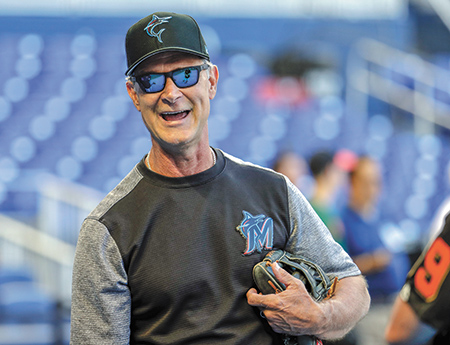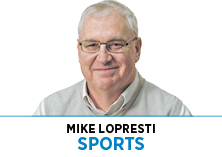 The greatest high school baseball state championship game in the history of Indiana—you could argue that, anyway—was 40 years ago this month. It took 10 innings to decide a 6-5 winner, still the longest title game in 106 years. In the end, a bloop single by the ninth hitter in the Logansport lineup scored the deciding run and beat Evansville Memorial, which had not lost in two seasons.
So who to ask about that night in old Bush Stadium?
How about the guy who threw the pitch that was hit to score the winning run? Maybe you've heard of him.
On the phone is the man New York got to know as Donnie Baseball, back when he was a six-time All-Star for the Yankees. Now he's Don Mattingly, manager of the Miami Marlins.
On June 23, 1979, Mattingly took the mound for Evansville Memorial in the final high school game of his career. He was 10-0, and his team had won 59 games in a row, including the 1978 state championship. All that was needed for a proper last bow was to beat Logansport.
What happened next—can he still remember, sitting in his manager's office in Marlins Park four decades later?
"Just probably losing it is the first memory. We'd won the year before, we'd won 59 straight games, you just don't think you're going to lose. Then I think about, as the pitcher—in the regionals I was OK, we got to the semistate and I was getting hit pretty hard, and the further we went on, the less I wanted to pitch. I was getting hit harder and harder."
He played first base in the afternoon game, an 8-0 victory over Columbus East. Logansport was an imposing threat at night; the Berries were 28-4 and had won two of the previous four state championships. But Memorial was the king of the state, and Mattingly its poster player.
"Probably one of the best high school teams ever," Logansport coach Jim Turner said 40 years later about that Memorial team. "Before the season, I knew we would be pretty good and I kept thinking, 'Boy wouldn't it be nice if we could play Evansville, I could see how we'd stack up against them.'"
By the fourth inning, Mattingly and Memorial were in trouble. Logansport had taken a 3-1 lead, and Evansville coach Quentin Merkel, sensing Mattingly's struggles, changed pitchers, going with afternoon winner Mike Henning, moving Mattingly to first.
Don Mattingly, second from right, in high school. (Photo courtesy of Memorial High School)
Memorial struck back with four runs in the bottom of the fourth for a 5-3 lead, two of the runs coming in on an error by Logansport second baseman Mark Snyder. Logansport rallied with runs in the fifth and sixth for a 5-5 tie, and there the game stuck until the 10th. Logansport pitcher Barry Bowyer, who had fought a bad back and taken three of Logansport's four losses during the regular season, shut down Memorial for six innings. That included Mattingly, who came to the state finals batting .588, but went 1-for-7 in two games that day.
By the top of the 10th, Henning had run out of innings. Another reliever walked two Logansport batters, so Merkel went back to Mattingly. Two on base, one out, the title on the line. Mattingly got a strikeout and needed only to retire one more batter to escape the threat. The next hitter went to a 1-2 count, and then blooped the ball just over shortstop, soft enough to leave glass unbroken—"It wasn't one that would light your eyes up," Turner said 40 years later—but hard enough to make history.
So one of the biggest hits ever in Indiana high school baseball was delivered by …
Mark Snyder, the kid with the earlier error. Baseball so often works that way—a goat one inning, a hero the next. Or vice versa.
Turner is 88 now, and by his own admission, can't remember things as well as he once did. But …
"I remember our second baseman committed an error with two out and allowed a couple runs to score. I'm thinking the ball went between his legs. And he ended up getting the hit that proved to be the winning run. I remember that. I was very pleased for him, because he had committed that error."
Bowyer retired Memorial in order in the bottom of the 10th. The longest title game since the state tournament was reborn in 1967 was finally over.
It was Turner's third state title. He would add a fourth in 1991 before retiring, and he credits the youth program in town as vital to his four trophies. "We had some very dedicated coaches at that level, and they were teachers. They didn't come just to coach their own son; they were there 25 or 30 years to coach everybody's son. So we had that going for us. We don't have a lot of that today. Parents coach their own sons and then they're done."
Now his son heads the Logansport program, and "I sit up in the press box (with his former assistants) where we can coach and umpire. All these years we've never made a mistake."
As for the future American League All-Star who lost that night? The details of Snyder's hit are a little fuzzy. "I don't even remember," Mattingly said. "I know I was the guy out there, though."
By the end of the following week, Matttingly was already in Oneonta, New York, starting his journey through the minors that would eventually lead to Monument Park in Yankee Stadium, where he is enshrined with the other pinstripe legends.
"It hurt for a while, but it really wasn't that hard to get over in my mind, because I felt like there really was nothing to regret," he said. "It wasn't like I wasn't concentrating, or I wasn't focused or I wasn't trying. There were really no regrets other than just losing it. That's the part that was painful. Looking back, once it's done, there's not a lot you can do about it."
His most enduring memory is that of Coach Merkel, who still lives in Evansville.
"He was a guy that inspired me to think bigger. He'd always talk about, if you're the best player on the team, then be the best player in town. If you're the best player town, then be the best player in the area. If you're the best player in the area, then be the best player in the state. And that always would stick me with, about always striving to get better."
Mattingly left that night with something else—the IHSAA mental attitude award. Still values it, still has it.
"Pretty much all my stuff's in storage. It's in there somewhere with Gold Gloves and Silver Sluggers and stuff like that, so it's in good company. I think the biggest thing I kept was the jersey. I think that jersey was something you feel good about."
The last time he took it off was in Bush Stadium 40 years ago, on the wrong end of a classic. Meanwhile, the Yankees were waiting.•
__________
Lopresti is a lifelong resident of Richmond and graduate of Ball State University. He was a columnist for USA Today and Gannett for 31 years. His column appears weekly. He can be reached at mjl5853@aol.com.
Please enable JavaScript to view this content.