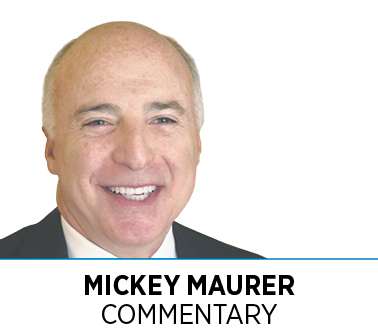 I grew up with Richard. He's a friend. We share the same values—Hoosier values. He is a smart guy who has enjoyed a professional career for more than 50 years. He voted for Donald Trump.
I was incredulous. "Why?" He replied, "I voted against Hillary. I would never vote for Hillary." How did Richard reach that conviction? Fox News? FBI Director James Comey's ambush? Russian meddling? Perhaps it was just Hillary's earning Richard's loathing on her own demerit. In a binary election like ours, Richard had few alternatives.
Richard may have a rip-roaring choice in 2020. It is Peter Paul Montgomery Buttigieg (Mayor Pete). Earlier this month, Mayor Pete addressed a standing-room-only house at the Indiana University auditorium in Bloomington on foreign policy and national security. He cited two Hoosiers, Dick Lugar and Lee Hamilton, giants who "used their Indiana values to help shape a tradition of American leadership, combining responsibility and restraint with idealism and vision." In describing Lugar, he drew an obvious comparison when he said, "What's not to like in a one-time mayor from Indiana who cut his teeth as a Rhodes Scholar and a Navy intelligence officer?"
Mayor Pete contended that the world today needs America more than ever—but only if America can be at her best. Chiding the president, he said that it is not enough to conduct foreign policy by presidential tweet. He added that a President Buttigieg would not treat Russia as a real estate opportunity but as a self-interested, disruptive and adversarial actor. Nor, referring to North Korea, will you see Buttigieg "exchanging love letters on White House letterhead with a brutal dictator who starves and murders his own people."
Richard will probably not like all of Mayor Pete's positions. Mayor Pete favors rejoining our international partners and recommitting the United States to the Iran nuclear deal, in spite of the impassioned plea of Israeli Prime Minister Benjamin Netanyahu at the United Nations. He promised to manage immigration and our borders humanely, securely and effectively, but he failed to offer a viable alternative to the Trump wall.
Mayor Pete sees climate threat as no longer distant or theoretical but rather clear and present. He envisions climate diplomacy and the kind of world we might build when climate stands alongside "democracy and human rights as a central goal and a source of legitimacy, for nations in global affairs." He would rejoin the Paris Accord.
Janie and I met this impressive politician at Kona Jack's last March for lunch. We agree he is intelligent, but is he electable? Could he motivate black America? Would his sexual preference forestall support from religious conservatives and even others in his own party? In March, hardly anyone outside of Indiana knew his name, let alone how to pronounce it. At Kona Jack's he was a non-entity. Today, we are closer to the answer to these questions. According to polling by Business Insider, 34% of registered Democrats who said they would vote in the 2020 primary believe that Buttigieg would beat President Donald Trump, a number greater than most of the established politicians jockeying for position in this race.
Richard has almost two dozen alternatives to President Trump—none named Hillary. Several, especially Mayor Pete, are outstanding and would do a much better job of leading our country than the present occupant of the Oval Office. When this exciting and vigorous political process boils down to a presidential nominee for the Democratic Party, I am betting that Richard won't have any reason to default to Donald Trump.•
__________
Maurer is a shareholder in IBJ Corp., which owns Indianapolis Business Journal. To comment on this column, send email to mmaurer@ibj.com.
Please enable JavaScript to view this content.