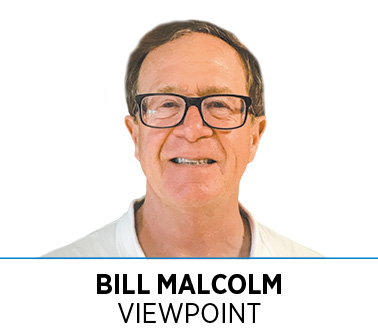 The recent IBJ story "One Year In, Paris Route Flying High," showed the state of Indiana's strong leadership and support for Delta Airlines' direct flight between Indianapolis and Paris.
It's in stark contrast to what's about to happen to passenger rail service between here and Chicago.
In the first year of the Delta flight, the airline got from the state $110 per passenger round trip, a $3.5 million per-year subsidy.
By contrast, the Hoosier State train to Chicago will end June 30 due to the end of state funding to the tune of $3 million per year.
The about-face of Gov. Eric Holcomb in his support for the rail route was a shock to the local communities along the route that—in an unusual move—were forced to fund part of the cost of operating the Amtrak service at an annual total of $500,000. (Do we force Lafayette to pay for part of maintaining and upgrading Interstate 65?)
There wasn't much more support for the route from Visit Indy, the Indy Chamber or the city of Indianapolis. Amtrak was not much help either, even though the rail service used the route to haul cars to its repair facility in Beech Grove.
The service was not perfect, but there was little done to improve it. It needed to operate more than once a day in each direction, the travel times could have been improved, the tracks could have been upgraded, and the state could have done a better job marketing it.
There is plenty of blame to go around.
By contrast, neighboring states Illinois, Michigan, Missouri and Wisconsin include passenger rail as part of their state transportation planning.
Indeed, three of these states just bought new locomotives (with engines built by Cummins in Seymour) to upgrade their service, as did California. Illinois built new stations and is upgrading the tracks to accommodate speeds of up to 110 mph. Wisconsin funds seven round trips a day to Chicago and Michigan funds four to Detroit.
North Carolina also comes to mind.
With three state-supported trains a day and two Amtrak long-distance routes between Charlotte and a new station in Raleigh, passenger rail is a vital part of the state's transportation program.
By contrast, Indianapolis travelers are relegated to the congested and accident-prone I-65 or the expensive (and often delayed) flights into O'Hare. Did I forget to mention the Megabus, which drops you off a mile south of downtown Chicago on Polk Street, a street with few facilities of any kind?
Marketing the Chicago-to-Indy route to rail-friendly Chicagoans to come down to visit, attend a convention or go to a Colts game was never pursued, despite our train terminal's ideal location downtown.
Worse, the Indiana Economic Development Corp., which gives out the Paris subsidy, was apparently too busy to meet with our group to discuss the rail issue, despite several attempts.
On June 30, Indiana will lose the Hoosier State train to Chicago and the great potential it had to provide an alternative to driving to Chicago.
It is very disappointing.•
__________
Malcolm is on the board of the Indiana Passenger Rail Alliance.
Please enable JavaScript to view this content.