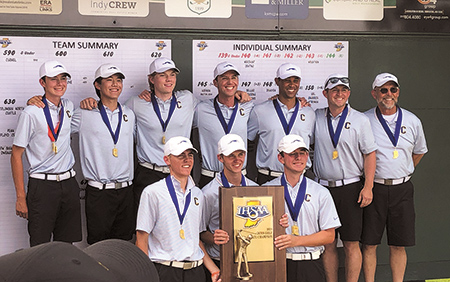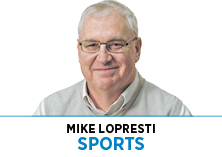 Fair health warning: If you're not from Carmel, the next few paragraphs might cause headache, dizziness, nausea or hives. But they have to be written.
Here's a number that will make one high school in this state justifiably hyper-proud—and have a lot of others gagging. It's 150. Keep that figure in mind for a moment.
This was a Friday in June of 1970, and the boys golf team from Carmel High School had edged out defending champion North Central by one stroke for the state championship. It was the first-ever title in any sport for the school from the town on the north edge of Indianapolis that was showing signs of growth. Population was up to nearly 7,000.
Who could have imagined the trophy monsoon to come? Last week, the Carmel boys golf team rolled to another championship by 17 strokes. It was the seventh state title of the school year for the giant school from the suburban beehive, whose population is now past 90,000.
And something else. It was the 150th state championship in Carmel history. 1. 5. 0. Talk about your landmarks, that's even more than Carmel has roundabouts. Maybe.
"I don't know that most people will know it will be No. 150," Athletic Director Jim Inskeep is saying on the phone. "I just think it's a great sign that the programs are being consistent and that every year we want them to achieve at a great level, and I think for our kids and our families and coaches, that's where they set out to be.
"It's a great benchmark, but I'm really proud of how they conduct themselves more than anything else."
Maybe now we should mention that when Greyhound golfer Nick Dentino was named winner of the mental attitude award, it made 57 of those for Carmel.
So now that the IHSAA has handed out its last trophy for the academic year, it is time to update the haul, while the rest of the state cringes. Carmel won in boys swimming, basketball, cross-country, golf and tennis and girls soccer this year.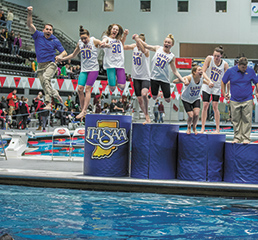 The women's swim team in 2016 after winning its 30th state title—has now won 33 championships in a row. (Photo courtesy of AP photo)
Did we forget anything? Oh, yeah. Girls swimming, as sure a thing every February as a hike in rose prices for Valentine's Day. This year was the 33rd title in a row, longest ever for any sport, male or female, in the nation. The seniors who began that streak are now eligible for AARP membership.
Or put it another way: Carmel competes in 19 IHSAA-sponsored sports and has state championships in 17 of them, missing only in baseball and wrestling. The Greyhounds have finished second in those.
You worry about Inskeep. Is he finding enough room for all that hardware?
"If we didn't, I'd be in trouble, I guess," he says.
He mentions the mechanical room explosion in late December that damaged the school near the gym. "None of the trophy cases were shattered or damaged from that. It kind of became the mantra, that champions never break.
"At the end of the day, those are displays for the kids and the community, and I think the biggest point there is, you've got all those memories that those kids created along the way. What I love seeing is people coming back years after they've left, and it's still really important to them. We're starting to see that more and more with social media."
OK, first things first. Yeah, it's a big school, way more than 5,000 students. On school days, Carmel High School is something like the 120th-largest city in Indiana, roughly with the same population as the towns of Tipton, Monticello or Lawrenceburg. So that's an obvious and huge factor. That many kids, you should be able to find five who can play basketball or golf.
But there's more to it. Has to be. In Inkseep's mind—he's been AD 18 years, long enough to watch enrollment soar from 3,300 to 5,300—there's also the matter of being continually exposed to high expectations.
"You're sitting in an algebra class or a biology class, the kid on one side is someone from the national champion marching band, and the kid on the other side of you is in an award-winning show choir, and your other peer is on the girls swimming team. You are constantly surrounded by excellence. That allows a student to see what hard work looks like and what can happen when you have complete buy-in with the program."
In other words, put a hamburger on the griddle, it comes out delicious.
Inkseep also thinks the trophy haul reflects the coaching staff.
"It's a humbling thing to be around coaches that are so invested in what they do and all the sacrifices they make. I really like the culture of the coaching staffs and how much they enjoy each other, because I think it' s a really easy thing in 2019 to just be interested in your sport and not really be interested in anything else that's going on. When we have our head coaches' meetings and those people get collectively in a room talking about topics, it's a pretty awesome conversation usually."
Championship … after championship … after championship. Who wouldn't begin to take it all for granted?
"I don't want to see us ever turn complacent," Inskeep says. "I don't see that happening here. Each year is a new challenge for our coaching staffs. For the kids on the team, it is their only senior year and maybe their only chance playing a season of varsity competition, so the motivation is always there."
Let's face it, a lot of folks from other schools would rather stick their faces in a fan than watch Carmel win another state championship. In many ways, the Greyhounds are the Yankees, Patriots and Duke all rolled up into one wad of blue and gold, right?
Another chuckle from Inskeep. "We're going to get everybody's best shot, it doesn't matter who we play." But the schedules are kept difficult because that's how teams get better. And they obviously do.
Not that Carmel cornered the market on historical feats in 2018-2019. Not when a visually impaired sprinter from Hamilton Southeastern wins the 200-meter state title in track. Noah Malone can barely see the finish line, but he got there first. On the applause-o-meter for this school year, that should have pushed the needle highest. Yorktown had a swimmer, Emily Weiss, who finished a career sweep of the 100 breaststroke.
Warren Central became the first school to put an unbeaten football champion next to an unbeaten basketball champion in the same calendar year. And for bonus points, look who the Warriors beat in both sports to do it. Carmel!
But sooner or later, you get back to that figure. 150.
"I don't think our people get caught up in the numbers," Inskeep says. "I think they're already talking about what's next year look like?
Just guessing it looks pretty good.•
__________
Lopresti is a lifelong resident of Richmond and graduate of Ball State University. He was a columnist for USA Today and Gannett for 31 years. His column appears weekly. He can be reached at mjl5853@aol.com.`
Please enable JavaScript to view this content.