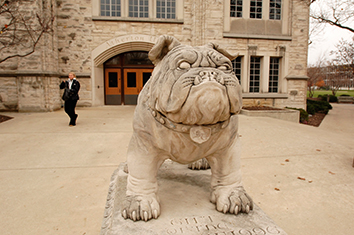 An alumnus and former board of trustees chairman who made part of his fortune as a major Taco Bell franchisee has pledged a $5 million gift to Butler University, the university announced Tuesday.
Craig Fenneman, who received a bachelor's degree in economics from Butler in 1971, and his wife, Mary Stover-Fenneman, made the donation to support of several projects at Butler, including the expansion and renovation of the school's sciences complex and the construction of a new building to house the Andre B. Lacy School of Business.
Some of the donation will go toward the Craig Fenneman Endowed Scholarship, which was established in 2003 for students pursuing an economics degree in Butler's College of Liberal Arts and Sciences.
Fenneman, 71, and business partner Charles Brown purchased two Taco Bell franchises in southern Indiana in 1982 under the name Southern Bells Inc. The company's holdings grew to 76 regional franchises when the partners sold it in 2012 to San Francisco-based Apple American Group, which operated 438 Applebee's in 23 states.
Fenneman also has owned real estate firm Fenneman & Associates since 1978, among other business ventures.
"Butler University is a school on the rise and we are proud to support the incredible work happening on campus," Fenneman said in a written statement. "My own life has been shaped by my Butler experience, and Mary and I are pleased to help ensure Butler remains a premier institution for future generations of students."
Fenneman was board chairman at Butler from 2011 to 2014 and has been a frequent donor to the university along with his wife. Their previous philanthropic support has supported the Butler Fund, the Campaign for Hinkle Fieldhouse, the Butler Rising Campaign, and the Butler Business Consulting Group.
"Butler students in each of our six colleges have directly benefitted from Craig and Mary's generosity throughout the years," Provost Kate Morris said in written comments. "Their gifts are improving the quality of our teaching facilities, increasing student access through scholarships, and strengthening our ability to partner with the local community in providing experiential learning opportunities for our students."
Please enable JavaScript to view this content.