Butler University on Thursday announced a $100 million plan to upgrade and expand its science facilities—the largest investment ever made by the school in a single facilities project.
The three-phase project, approved by Butler's board of trustees on June 7, will construct and renovate 96,000-square-feet of space to create a science complex featuring "high-tech classrooms, modern research labs, and collaborative working spaces," the school said.
"This is a significant and historic step forward as Butler continues to transform education for the needs of students and employers in the 21st century," President Jim Danko said in written remarks.
Construction on the first two phases is expected to begin soon and be completed in about 18 months.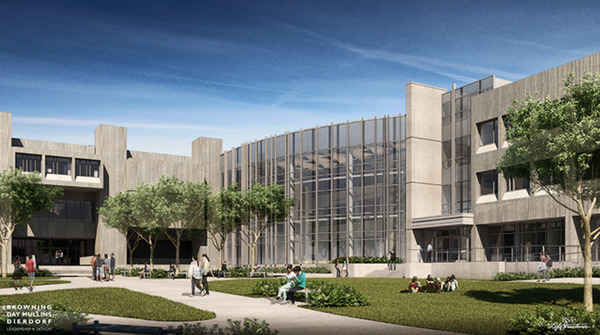 — Phase 1 calls for adding 44,000 square feet of space, plus a 13,140-square-foot atrium, to create a connector building linking existing science building Gallahue Hall and the Holcomb Building, which currently houses the Andre B. Lacy School of Business. The connector building will house classrooms, study areas and research labs for chemistry, astronomy, physics, engineering and psychology. All of Butler's undergraduate science programs will use the building.
— Phase 2 involves renovating the Holcomb Building to add classrooms and labs for psychology, physics, and neuroscience programs. The Lacy School of Business is vacating the space to move to its own new building this fall.
— Phase III will involve a complete renovation of Gallahue Hall, which has not been renovated since its construction in 1973. No timeline was given for the project, which will add classrooms, labs and workspaces for biology, molecular biology, biochemistry and chemistry, plus space for a Center for Urban Ecology.
Butler hopes to raise at least $42 million for the project through philanthropy, and said it has already secured $27.5 million in donations. The remaining funds will come from a new bond issue.  
The school said major donations have come from the Richard M. Fairbanks Foundation, Frank Levinson, Craig Fenneman and Mary Stover-Fenneman, and trustees Lynne Zydowsky, Josh Smiley, Katie and Len Betley, Lou and Laura Glazer, Jane and Robert Wildman, and Dick Wood.
Butler said it is offering naming-rights opportunities, priced from $100,000 to $500,000, throughout the complex.
Butler launched a strategic planning process in 2011 that considered what to do with the science and business schools and their facilities, and school leaders have been planning for the project ever since, Provost Kate Morris said.
Over the past decade, enrollment in science programs has increased 70 percent, and the science department has grown out of its space.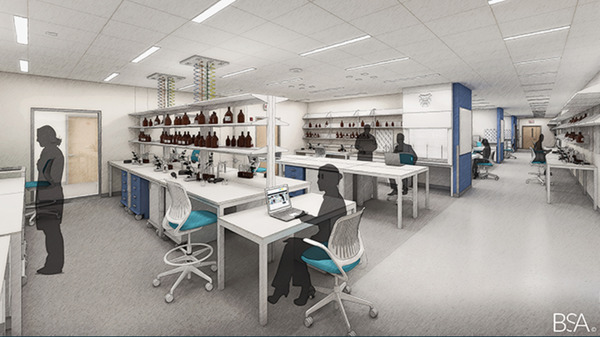 The new facilities will feature flexible lab spaces, with students and faculty working side by side and areas of research grouped together to maximize collaboration. To learn what labs at cutting-edge research organizations look like, school officials visited other universities for inspiration as well as facilities at Eli Lilly and Co., Roche and Corteva.
A majority of Butler science graduates stay in Indiana after graduation (in 2016, that number was 63 percent, according to the university), so it's important the facilities are designed to prepare graduates for labs at Indiana-based companies, Danko said.
The new facilities also offer opportunities to create additional programs. Two programs under consideration are neuroscience and data science.
Butler is already home to the country's largest undergraduate research conference, and the cross-disciplinary lab spaces should lead to new research projects, according to the university. 
"I think it is hard to overstate the importance of this project, as it will prepare Butler students for the future and position us as a premier undergraduate institution for the sciences," Morris said.
Please enable JavaScript to view this content.