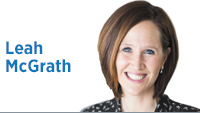 On June 17, Time magazine released a report that reveals life expectancy based on ZIP code.
To no surprise, yet nonetheless unsettling, data showed those living in poorer ZIP codes have a shorter life expectancy, and not by just a few years. In some places, the disparity in life expectancy is 20-plus years.
This study resonated in my mind as I considered the widening gap between the "haves" and the "have nots" across our country and in Indiana.
As was articulated in the book "Dream Hoarders," by Richard Reeves, the gap is not just between the top 1% and the rest of us; the gap is growing more severe between the top 20%—or as the author calls it, "the upper middle class" —and everyone else.
Most of the readers of this column are likely in that top 20%, which accounts for households that make more than $120,000 annually. We are part of the divide.
As the top one-fifth of the population grows wealthier, amasses more education and apparently lives longer, the bottom four-fifths (that includes the "middle class") loses more.
Many more factors might contribute to this divide—most notable, perhaps, is the transition to a human-capital economy.
Other factors noted among the top one-fifth include more dual-employed, college-educated households; more graduate degrees; more stable family lives; more access to healthy food and exercise; wider networks of influence; and more often living in areas with the best schools and with zoning laws that result in fewer attainable housing options.
Using personal power to influence opportunities for our children was another point raised by the author, and that one stung. The author pointed to actions like calling colleagues or friends to get your child an internship or a job or using "legacy" favors to help get your child into a program, school or fraternity. Every time a spot is filled in this way, a door closes for someone else.
Our country was built on the promise of equal opportunity. It was built on an idea that, no matter whom you were born to or where you grew up, you could be anything you wanted to be as long as you worked hard enough for it.
As the great divide between the top one-fifth and the rest grows, this idea and ideal to be the land of opportunity for everyone is at risk. We need to talk about it more.
We need to take heed to protect the American dream, not just for my sons or your daughters, but for all children—who do not have a choice in who their parents are or what ZIP code they are born into.
There will always be a bell curve, but it's slanting too far to one side. We must find ways to provide more opportunities for the middle class to break into the upper-middle-class sphere, and to lift all boats so more people—regardless of where they fall on the bell curve—can thrive.•
__________
McGrath is deputy mayor of the city of Fishers and is vice chairwoman of the Indiana Republican Party. Send comments to ibjedit@ibj.com.
Click here for more Forefront columns.
Please enable JavaScript to view this content.