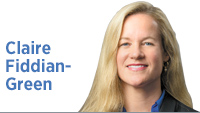 E-cigarettes were introduced to the United States in 2006 with a primary goal of helping adult smokers quit. Today, one in five American high schoolers uses e-cigarettes, and there's been a subsequent rise in the use of all tobacco products among youth under the age of 18. This increase in tobacco-product consumption comes after a decades-long decline in youth smoking.
It's undeniable that youth e-cigarette use, or vaping, is rising at an alarming rate. Teenagers who wouldn't consider lighting up a traditional cigarette don't appear to think twice when it comes to vaping a candy- or fruit-flavored pod containing nicotine.
But strong evidence shows that children and adolescents who use e-cigarettes are significantly more likely to go on to use traditional cigarettes. Compounding the concern about vaping as an addiction gateway, recent studies have shown widespread use of vaping devices for marijuana consumption, which has harmful effects on adolescent brain development.
It's time for us to take bold steps to prevent middle- and high-school students from using e-cigarettes—and potentially becoming addicted to other substances for which there are devastating long-term health and economic consequences.
The growth in e-cigarette use among U.S. high schoolers highlights the need for stronger prevention efforts. In 2011, less than 2% of high school students vaped. In 2018, that figure grew to an astonishing 21%, an increase of 78% over the previous year.
What's particularly troubling: Some students inaccurately believe vaping is not harmful, especially compared with traditional cigarette use. Thirty-eight percent of sixth- through 12th-grade students believe e-cigarettes cause little or no harm, but the data show that is untrue. Vaping flavors like mint and mango that are most likely to appeal to youth contain chemicals that can pose respiratory risks when inhaled, and e-cigarettes expose users to toxins that might increase the risk of both cardiovascular and noncancer lung disease.
E-cigarette manufacturers market their devices as fulfilling their original purpose: helping adult smokers quit. But a comprehensive analysis released by the National Academy of Sciences last year concluded there is limited evidence to support the idea that e-cigarettes are effective in helping smokers successfully quit.
Instead, vaping has become a potential gateway for more youth to take up smoking. And we can't forget that tobacco use is the leading cause of disease and death across the U.S. Do we really want to see a return of societal norms that condone the use of a highly addictive substance, this time delivered through a vaping device?
Bold steps must be taken that make it harder for youth to access vaping devices. Extending smoke-free policies to include e-cigarette use is one step schools and communities can take.
The FDA also is taking steps to ensure e-cigarette and e-liquid manufacturers are not targeting youth with their products, especially flavored e-liquids that appeal to young people.
Restrictions like these must be coupled with education and training for kids, school personnel, youth sports coaches, parents and more.
Because e-cigarette use is so new, we don't yet have evidence on effective youth-prevention programs. Two promising models include the E-Cigarette and Vape Pen Module from Stanford University's Tobacco Prevention Toolkit, and CATCH My Breath. Indiana schools and other youth-serving organizations should consider incorporating one of these programs into their programs and schedules.
Youth e-cigarette use is accelerating like a runaway train. By pulling the emergency brake, we can keep the epidemic from proliferating further—and prevent Hoosier children from become life-long nicotine addicts.•
__________
Fiddian-Green is president and CEO of the Richard M. Fairbanks Foundation and a former adviser to then-Gov. Mike Pence on education issues. Send comments to ibjedit@ibj.com.
Click here for more Forefront columns.
Please enable JavaScript to view this content.