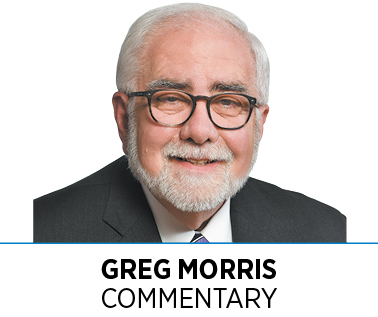 I think I finally get it after reading former Indianapolis Mayor Greg Ballard's book—"Less Oil or More Caskets—The National Security Argument for Moving Away from Oil." It shouldn't have taken me this long to snag a clue, because I've heard Ballard discuss this topic many times publicly and privately during his term as mayor—and after.
Ballard is a 23-year veteran of the U.S. Marine Corps, retiring as a lieutenant colonel. As a Persian Gulf War veteran, when he talks about the Middle East, he knows of what he speaks. In his book, Ballard lays out a compelling argument on why we absolutely have to reduce our dependence on Middle East oil. Here are a few excerpts, edited for space, from the forward.
Today, when we send our young men and women off to war, we pat them on the back and thank them for their service. We throw parades and homecomings upon their successful return. We sadly salute the caskets as they go by. Then we drive down to the neighborhood gas station and fill up—and nobody makes the connection, no one sees the irony.
The simple question must be asked why are we in the Middle East? Why do we continue to pour enormous resources into an area of the world that has cost us so dearly, in both human and financial terms, over the last forty years? We do this to maintain the global oil market.
Transportation is the last industry dominated by the use of oil. Only transportation and industrial uses consume significant quantities of oil in the United States, and transportation is by far the dominant user—over 70 percent of total oil consumption, according to the Energy Information Administration. Oil is still used for over 90 percent of transportation needs in our country and the world, and it will remain so unless new technology is understood and embraced.
Transportation energy technology is on the cusp of great changes that will allow the international economy to be free of oil's chokehold. (This technology will) change the strategic dynamic wherein the United States must defend—at enormous cost—the flow of oil, which allows the world to send money to people who want to kill us. Today, we are funding both sides of the War on Terror.
In his book, Ballard lays out our current state of affairs, gives a short military analysis, and gives us a detailed analysis of the enormous human and direct financial costs over the past 40 years. Then he lays out how we got to this point, where the technology is today, and what the future holds.
One of my favorite passages in the chapter titled "What would happen?" is this: A sedan or SUV with a range of four hundred electric miles and fully rechargeable in five to ten minutes would change the world. That is the range of "convenience," and the speed of a "fill-up" that would make the average person completely comfortable with electric vehicles." Can I have an Amen to that?! Sign me up.
The final chapter—"What should we do Now?"—offers several action items for individuals, businesses, automobile manufacturers and dealerships. It includes recommendations for local, state and federal governments, and an action plan for voters.
Ballard asks us to be open to new technology and reassures us that no one expects us to get rid of our current car immediately and replace it with a plug-in hybrid. The time to start is when you're planning to purchase your next new car.
"Less Oil or More Caskets" is an easy and informative read. I recommend you pick up a copy on Amazon. I appreciate Ballard's friendship, insight and continuing service to make all our lives better.•
__________
Morris is publisher of IBJ. His column appears every other week. To comment on this column, send email to gmorris@ibj.com.
Please enable JavaScript to view this content.