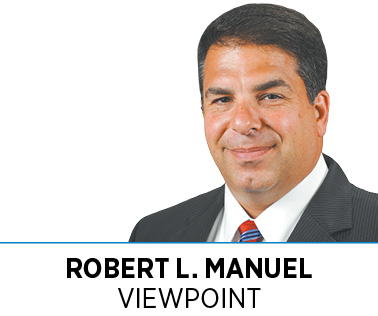 Facing unprecedented challenges from all sides, American higher education is in need of new thinking and new action from campus leadership.
Flat enrollment, public skepticism of traditional higher education and proposed federal lending caps are just some of the factors creating uncertainty. These complex problems demand dynamic and flexible responses that colleges and universities are uniquely qualified to provide.
Consider the current national higher-education landscape: Universities and colleges across the country are closing, particularly in areas where local workforce needs aren't being met. Annual higher education spending on federal compliance is estimated to be $27 billion, according to a 2015 study. A 2018 Gallup poll found that just 48% of Americans have confidence in institutions of higher education.
In order to maintain relevance and growth, higher education models must continue to evolve and innovate. Our role as educators requires us to be true to our mission in creating life-changing opportunities for students while also being responsive to the state's workforce needs. Instead of viewing these roles as an "either/or" dichotomy, universities must adopt the philosophy of becoming "and" institutions in order to serve their communities to the fullest potential.
Central to being an "and" institution is the belief that our liberal-arts core is critical to long-term success. Our focus on liberal arts recognizes the field's crucial contributions to civil society and civic engagement. At the same time, we acknowledge that universities must be more responsive to immediate workforce needs that might not require liberal-arts degrees.
Our fifth president, Gene Sease, not only changed the name of our institution to the University of Indianapolis in 1986 to match that of our city but also sought corporate and community partners to advise on our curriculum. In that mold, and in his honor, we have developed The Sease Institute powered by the University of Indianapolis to be that educational medium, rooted in community advancement.
Launching next month, the Sease Institute will offer a non-traditional, collaborative and fully customizable approach to education. It features corporate training, noncredit certification programs, thought leadership and on-demand education for individuals and businesses. Our strategy has always centered around responsible stewardship and visionary leadership that adapt to the environment. We have the infrastructure and experience to build a course and a classroom, but it should be our community partners and members who shape the curriculum.
The need for universities to fulfill this role has long been recognized, from AnnaLee Saxenian's world-renowned research on regional economic performance at the University of California Berkeley's School of Information to recent studies pointing to growth in skilled-service industries. Vibrant economic regions have institutions that fulfill the dual roles of preparing for the future and addressing immediate needs. More universities, on-campus centers and institutes should step forward and embrace these roles.
The Sease Institute was founded on the principle that it is possible to prepare students seeking a liberal-arts education as well as to serve those whose goal is to be trained for specific workforce needs. In so doing, we can help the economic vitality of the region both in the contemporary professional environment and in the evolving competitive space of tomorrow.•
__________
Manuel is president of the University of Indianapolis.
Please enable JavaScript to view this content.