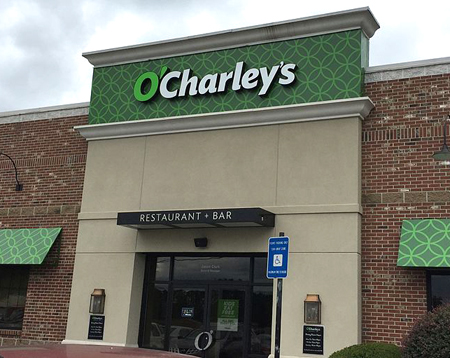 Casual dining chain O'Charley's has closed two of its Indianapolis locations.
The restaurants—at 10289 E. Washington St., just east of Mitthoeffer Road, and at 6111 N. Keystone Ave. at Glendale Town Center—closed at the end of the day Sunday, the company said.
The Indianapolis locations were among eight restaurants closed Sunday by the Nashville, Tennessee-based regional restaurant chain.
"Market and traffic patterns for locations change while competition evolves," O'Charley's President Craig Barber said in a written statement. "Consideration of changes to our restaurant portfolio includes careful analysis based on each location's unique characteristics. It was this strategic and important process that led to the closure of [these locations.]"
Earlier this year, O'Charley's also closed a restaurant at 7640 Shadeland Ave. in Castleton.
The closures leave O'Charley's with only one restaurant in Indianapolis, at 6930 S. Emerson Ave. It has six other area locations in Greenwood, Camby, Avon, Fishers, Noblesville and Greenfield.
In all, the chain has 14 Indiana locations and more than 170 in the Midwest and Southeast.
Barber is also the CEO of O'Charley's parent company, Nashville, Tennessee-based American Blue Ribbon Holdings LLC. American Blue Ribbon Holdings' majority owner is Las Vegas-based Cannae Holdings Inc., a publicly traded company.
As a company, O'Charley's has been struggling with slipping sales, according to trade publication Nation's Restaurant News, falling from $498 million in fiscal 2017 to $469 million in fiscal 2018.
The chain's same-store sales dropped 3.7 percent during the first quarter, following declines of between 1.6 percent and 4.7 percent in each quarter of 2018. Same-store sales, which measure sales at locations open for a year or more, are an important retail performance metric.
The original O'Charley's opened in Nashville, Tennessee in 1971.
 
Please enable JavaScript to view this content.