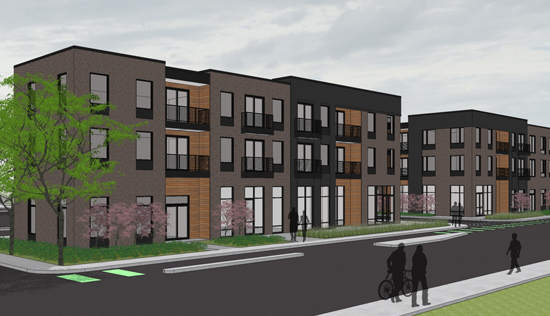 An east-side community development group plans to build a $9 million mixed-use development along East New York Street as part of continued efforts to revitalize the Englewood neighborhood.
To be known as St. Lucas Lofts, the project by Englewood Community Development Corp. calls for two, three-story apartment buildings at the southeast corner of East New York Street and Temple Avenue.
The development would include 51 apartment units, along with more than 2,500 square feet of community space and nearly 2,000 square feet of commercial retail space.
ECDC Executive Director Joe Bowling said the project would be comprised of two L-shaped buildings, one with 26 units and the other with 25 units. The units would range from 504-square-foot one-bedroom layouts to two-bedroom units with up to 1,072 square feet.
The more populous building would also have 980 square feet of community space and just over 1,900 square feet of commercial retail space. The other building would have about 1,660 square feet of community space.
At least 10 of the units would be designated for individuals who are recovering from homelessness, through a partnership with Outreach Indiana, which has a shelter and resource center about two blocks west of the development.
The concept for St. Lucas Lofts was first proposed during the Great Places 2020 planning stage, and the current design is "very similar" to the original concept, Bowling said.
"We're really excited about this," Bowling said. "It's something we've been thinking about for close to three or four years now."
Bowling said each building is expected to have a pair of community classrooms, where neighborhood residents could gather for meetings, specialty courses and other events.
There also would be surface-lot parking, although the total number of spaces has not yet been finalized.
Bowling said the group hopes to utilize a variety of funding sources for the $9 million project, including tax credits and other financial assistance from the Indiana Housing and Community Development Authority.
The group later this month will request rental housing tax credits and low-income housing tax credits, he said. It also plans to make payments in lieu of taxes to the city, although Bowling could not confirm how much when he spoke to IBJ on Monday.
The development corporation is expected to ask the city's Metropolitan Development Commission on Wednesday to rezone the project's one-acre site—comprised of three parcels with SU-1, D-8, and D-5 zoning designations—to an MU-1 classification, which allows for mixed-use developments.
Current zoning for the D-5 and D-8 districts only allows for single- or two-family dwellings, while the SU-1 designation permits a religious use. The site was formerly home to St. Lucas Church.
The Lofts project is one of several affordable housing developments that ECDC has taken on in recent years. Others include the now-underway $38 million adaptive reuse of the P.R. Mallory building on East Washington Street and the Oxford Flats project on North Oxford Street.
The design and landscape architect for the St. Lucas Lofts project is Indianapolis-based Blackline Studio, which also worked on the Oxford Flats project. A general contractor has not yet been selected for the Lofts development.
Bowling said the group hopes to break ground on the project in spring 2020.
Please enable JavaScript to view this content.