Leaders of Great Places 2020 expect 2018 to be a year of transformation for the $200 million redevelopment initiative targeting neglected pockets of the city.

The effort, led by the Local Initiatives Support Corp. and launched in late 2014, aims to mix private-sector investments with federal tax money to spark residential and commercial activity in the five areas.

The year 2020 marks the 200th anniversary of Indianapolis' founding—and the year Great Places is set to be completed as part of the bicentennial celebration. Hence, the initiative's name.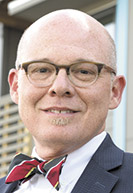 Taft
Now, following three years spent laying the groundwork, actual development should start next year, said LISC Executive Director Bill Taft.

"We want this to be the primary way, as a city, that we celebrate our 200th anniversary," he said. "Let's not build a little plaza somewhere with a plaque. Let's actually help neighborhoods become places where growth happens."

The five areas identified by Great Places 2020 are: 38th and Illinois streets (Maple Crossing), East Washington and Oxford streets (Englewood Village), West Michigan Street and King Avenue (River West), the Twin Aire neighborhood east of Fountain Square, and the area around West 25th Street and Dr. Martin Luther King Jr. Street.

Most are high-crime areas—a fact not lost on LISC, which lists public safety in its marketing materials as a high priority.
The Maple Crossing area has a 1,011 percent higher criminal homicide rate than the city norm and a 1,041 percent higher non-fatal shooting rate, according to LISC's strategic plan for the neighborhood.

Creating closer partnerships between neighborhood not-for-profits and police, and simply creating development that discourages criminal activity, should help make a difference, Taft said.

"Those aren't new ideas; we've done them before," he said. "The challenge is just keeping at it."

Development will be spurred by roughly $200 million that's expected to be contributed through a combination of private equity and public grants.

Organizers in December 2016 added the Twin Aire and MLK neighborhoods to the original list of three. Improvement plans there are still in the works, with LISC expecting to announce specifics in February.

Twin Aire

Yet the Twin Aire neighborhood, about three miles southeast of downtown and just east of Fountain Square, is on the cusp of change and could be among the first of the five to attract major redevelopment.

The city in January selected the site where the Citizens Energy coke plant stood to build a $572 million criminal justice center. The parcel at 2950 Prospect St. sits just east of the former Twin Aire Drive-In site and a weathered shopping center—both poised for redevelopment.

"Twin Aire is the most ambitious, because it's a reworking of the Twin Aire commercial center," Taft said. "Other than the [former] GM stamping plant [downtown], this is the biggest real estate revitalization opportunity in urban Indianapolis."

Preliminary plans have the Marion County courts fronting Pleasant Run Creek, which separates the justice center site from Twin Aire, with the jail behind the courts building. Taft envisions a mix of retail and office space at Twin Aire, with a bridge spanning the creek providing easy access to the justice center.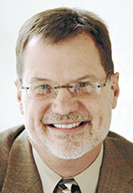 Sparks
Jeff Sparks, a senior fellow at the Sagamore Institute, is leading the charge to redevelop the property on behalf of Southeast Neighborhood Development Inc.

"It could be very dramatic what happens in Twin Aire," he said. "But one of the things that is most important is that we don't change the fabric of the community, so people no longer feel they belong, or they find it so expensive that they can't afford to live there anymore."

Twin Aire is home to about 6,100 residents and is bounded by English Avenue to the north, Prospect Street to the south, Southeastern Avenue to the east, and Keystone Avenue to the west.

When the shopping center opened in 1957 where English and Southeastern avenues meet, it was the city's first. To the south was a bowling alley and behind that, the drive-in.

"You had this hub of energy," Sparks said. "[Residents] look back and go, 'We'd love to be that vibrant community again,' so there's hope."

The 26-acre drive-in property is owned by Citizens Energy and is shovel-ready, he said. The shopping center is controlled by a Chicago group, making redevelopment more difficult. But Sparks hopes local leaders can work with the owner or recruit another developer that might be interested in buying the site, if it becomes available. A handful of developers already are expressing interest, Taft said.

Maple Crossing

Plans to redevelop the area around 38th and Illinois streets are charging ahead, with developers progressing on projects totaling $32 million that would bring a grocery store and about 140 apartments there.

Prominent local developer Flaherty & Collins Properties bought the five-story former United Way of Central Indiana building at 3901 N. Meridian St. in April 2016 and revealed plans two months later to develop the property with community development group Midtown Indianapolis Inc.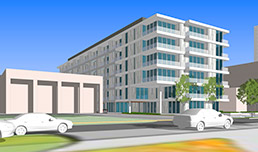 The former United Way building would be redeveloped into apartments and office space. (Rendering courtesy Midtown Indianapolis Inc.)
They want to convert the structure, built in 1969, into 70 mixed-income apartment units with up to 15,000 square feet of street-level office space. The total investment is estimated at $15.6 million.

Flaherty & Collins also is partnering with North United Methodist Church to develop the surface lot the church owns to the west of its property, which runs along the east side of Illinois between 38th and 39th streets.

Plans there call for a $16 million mixed-use development with 68 mixed-income apartment units anchored by a grocery.

The partners on the projects sought to rezone the properties to accommodate mixed-use development and received approval from the city in August.

They've applied for affordable tax credits to help finance both projects and hope to break ground by the end of next year, if they're awarded the credits, said Michael McKillip, Midtown's executive director.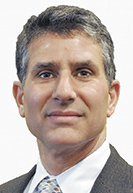 Tikijian
The Indiana Housing and Community Development Authority doles out the federal credits every February, and they are crucial for those projects earmarked for Great Places 2020, said George Tikijian, senior managing director of the Tikijian Associates apartment brokerage.

The first few new mixed-income housing projects in distressed areas are always the toughest, he said, because market-rate rents always are well above existing rates.

"It's a very competitive market," he said of the tax credit program. "There aren't enough to go around for all that are applying."

Midtown Indianapolis also has received approval to rezone the property at the northwest corner of 38th and Illinois, where the two-story Concord Building retail strip sits, with the intention to transform it into an incubator for fledgling businesses.

"The building has been an eyesore for some time," McKillip said, "and we have been overwhelmingly excited about the number of folks who want to come back to the neighborhood."

Midtown also is set to acquire by the end of the year the building Happy Brewing Co. is set to open in, at 3902 N. Illinois St., from owner Double Eight Realty LLC. A Double 8 grocery store last occupied the building and closed in July 2015.

The building totals 17,000 square feet, including the 9,000-square-foot basement, where Midtown hopes to attract additional retail tenants, McKillip said.

Englewood Village

Directly north of Twin Aire, near East Washington and South Rural streets, Englewood Village is beginning to take shape.

The 21-unit Oxford Flats apartments, built by the Englewood Community Development Corp. on the north side of East Washington, should open by the end of the year.

On the south side, the Englewood CDC partnered with TWG Development Inc. to build the 30-unit Oxford Senior Apartments, which is fully leased. A second, 39-unit phase, is about to start, with a third phase in the planning stages.

A block east, neighborhood leaders are still hopeful Purdue University's new Polytechnic High School will occupy the vacant P.R. Mallory factory. The school in February announced that it had signed a lease to occupy space in The Union 525 building at 525 S. Meridian St., after encountering costly repairs.

The Indianapolis Public Library finished renovating its branch and purchased and tore down the adjacent building at Rural and Washington. On the east side of the branch, the Tlaolli Mexican restaurant has been serving customers since 2014 and the Puerto Rican Pia Urban Cafe opened last year, bringing retail traffic to the neighborhood.

25th and MLK

At West 25th and Dr. Martin Luther King Jr. streets, LISC and its partners hope to build on activity around Methodist Hospital and the proposed 16 Tech innovation district to revitalize the neighborhood.

Taft, though, recognizes the challenges.

"Obviously, a lot of housing needs to happen in that area," he said. "There's a lot of vacancy."

One interesting aspect of the area is the 2.5-acre urban Flanner Farm. It's on the campus of the not-for-profit Flanner House at 2424 Dr. Martin Luther King Jr. St., and right in the center of the city's largest food desert, according to Indy Food Council.

River West

West of downtown, in the River West neighborhood at West Michigan Street and King Avenue, LISC and its partners want to capitalize on the activity at the Central State property to the south, which fronts West Washington Street.

Central State Hospital closed in 1994, and the city bought the 150-acre property a decade later. Development didn't begin until 2011, when Carmel-based Pedcor Cos. broke ground on a 144-unit affordable apartment complex called The Steeples.

Pedcor followed with The Retreat, a 62-unit senior-housing complex, and Indianapolis-based Reverie Estates converted the hospital's administration building, constructed in 1938 and now called Central State Mansion, into a mix of micro-offices, creative studios and co-living spaces.

Now, South Bend-based Holladay Properties is building The Villages at Central State. It will include 16 single-family homes, five town houses and one duplex on the property between Tibbs and Warman avenues.

LISC and its partners—the city of Indianapolis, Indianapolis Neighborhood Housing Partnership, Indy Chamber, United Way of Central Indiana and Keep Indianapolis Beautiful—undoubtedly have a lot of work ahead of them. But Taft is confident they're up to the challenge to make parts of the city more inviting.

"Nationally, there's this realization that when people say there's a desire for more people to live in cities, what they want is mixed-use walkability," Taft said. "We don't have a lot of that product in Indianapolis."•