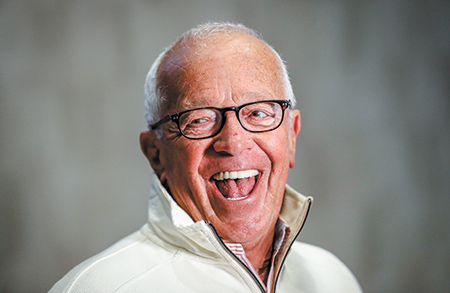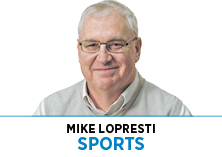 Before there was Marty Brennaman, the voice of summer for so many baseball fans around here …
Before there was a Hall of Fame career of 46 seasons spent with one team—a feat accomplished by fewer men than have walked on the moon …
Before there was: And this one belongs to the Reds …
There was Jan. 18, 1974. It was a Friday night in the Indiana State Fairgrounds Coliseum, and the ABA Pacers were hosting the Virginia Squires. There at the microphone for the Squires network was a 31-year-old broadcaster, who that weekend was facing the work decision of his life. Young Marty Brennaman had stopped by Cincinnati on his way to Indianapolis, so the Reds could talk to him about replacing the departing Al Michaels as their play-by-play man. Big jump for a guy doing ABA and minor-league games in Tidewater. Would he or wouldn't he?
But first, there was a game to call in an aging arena where he loved to broadcast. "I just liked the oldness of it. It just reeked of basketball; it smelled like basketball," he would say of the Coliseum 46 years later. George Gervin scored 35 points for the Squires that night, but the Pacers won 118-106. Then what?
"I flew back to Norfolk after the game, and Sunday I called them at 5 o'clock and told them I would take the job," Brennaman said the other day. "So there was a definite Indiana connection to that."
Let's pull a tattered cliche out of the closet and say the rest is history. Now here we are, facing the dog days of Marty Brennaman's last season. He will retire having become as accepted a part of summer as lightning bugs in the back yard. Only eight broadcasters could say they went 40-plus years with one big league team. The road has taken him to hither and yon and Cooperstown, as a Hall of Fame inductee. Read his bio and you will find there is a lot of basketball in his background, too, and that would include the 1983-1984 season doing Pacers TV games. It wasn't the greatest moment in history to be following that team around—they went 26-56.
"They were pretty bad, but I thoroughly loved it," he said. "We did several Boston games, and it gave me an opportunity to see Larry Bird play, which to me was sensational because I had never seen him play in person."
It is a Saturday afternoon in Cincinnati, and Brennaman has just completed two pregame rituals—interviewing the manager and walking around the ballpark several times. At age 76, he's a Fitbit guy, and likes to get in five miles a day, so "basically it kills two birds with one stone. I get exercise and really get to know the parks that I go to." He must head for the booth soon to call the Reds against the Cubs. But before that, let's give him the microphone for a few topics.
How his journey turned so suddenly back in 1974 …
"I never even thought about doing big league baseball. I was so enamored with doing pro basketball and I was a big fish in a small pond in Virginia. Had it not been for a chance meeting between Dave Rosenfield, who was the general manager of the Tidewater club, and Dick Wagner, who at that time was the Reds assistant general manager, I would have never come here. I knew Al Michaels had left, but I never even thought about applying for the job."
The connection with listeners he will miss …
"All the years that Joe [Nuxhall] and I worked together, we appreciated everybody, but the ones who made the biggest impact on us, we'd hear from them in the last month of the season: from over-the-road drivers who we kept company with driving late into the night, and shut-ins. And we were the window to the outside for them. We'd get letters and notes from people and some of them were pretty sad. They'd make the comment that, 'After that last Sunday in September, I don't have anything to look forward to.' That makes you understand and puts things into a perspective that you'd like to have them put in; we're important to those people. It's become a way of life for them."
He still calls his time doing ABA games for the Squires—when they had the likes of Julius Erving, Charlie Scott and Gervin—"3-1/2 of the best years of my life." Surely, there must be a Pacers story at the Coliseum. Oh, yeah.
"The Pacers had Mel Daniels, Darnell Hillman, Freddie Lewis and Roger Brown. They were loaded. They rarely ever lost at home, and it was one of those nights. I think the Squires were up 27 points in the middle of the second quarter. It got so bad that Slick Leonard just purposely got thrown out of the game. He didn't want to watch it anymore."
Suddenly, a brawl on the court.
"It got to the point where [Coach] Al Bianchi was arrested and [player] Jim Eakins was arrested, and they were taken to jail after the game ended. We sat on the tarmac in Indianapolis, on the charter to fly back to Norfolk. We sat there for almost two hours, until they got out of jail. Bianchi got on the plane—and he was as funny as hell, anyway—and he stopped where I was sitting and said, 'You know what, there really is graffiti on the jailhouse walls.'"
His memories of calling 11 Final Fours and 15 regional finals—including the Christian Laettner shot to beat Kentucky in 1992 …
"I tell people today, and I've always believed this—I'm sure that baseball people don't like me to say it—you take the World Series and Super Bowl and all the rest of them, there ain't nothing like the Final Four. There's nothing like the NCAA Tournament. For me, all the stuff I've done, nothing will ever equal that. As long as I'm drawing a breath, I'll always be very envious of people working those games every March and into April."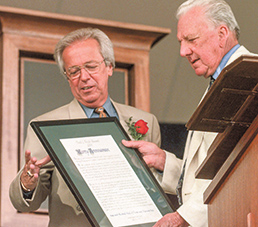 Marty Brennaman, left, receives the Ford. C. Frick Award from Baseball Hall of Famer and broadcaster Ralph Kiner, in 2000. (AP photo)
His comfort level to be forever called a Hall of Famer …
"The day I got the call [telling him he had been selected], Jack Buck was one of the first people to call, and he said, 'Your life will forevermore be changed.' I said, 'Why?' He said, 'If the family name exists for two more centuries, anytime any mention of you comes up, the words Hall of Famer will be in front of your name.'
"I don't think about that stuff. I marvel at the fact that there are people who talk about me in the same breath with Scully and Harwell and Buck. People say, 'You're a dinosaur; you're the last link.' Quite honestly, I never thought I was as good as people think I am."
His thoughts about Sept. 26, which will be his final Reds game (unless the universe shifts and they end up in the playoffs) …
"The last year that Joe and I worked together, we never, ever acknowledged it until our backs were against the wall, until the postgame of the last game that we did together. We never talked about it because we didn't want to be confronted about it. Finally, in the postgame show I said, 'I guess we have to talk about it.' He said 'Yep, little buddy, I guess we do.' And I had a hard time talking about it. He said, 'Little buddy, you need me to help you out, don't you?'
"That's pretty much going to be the way this is. Whatever I say will be said spontaneously. I just hope that I get through it OK. I look forward to it, but I don't.
"In all the years Joe and I worked together, I used to kid him, 'You could cry at the door opening and the sun coming up.' I felt like that was [not] a macho thing, guys just do not do it. The older I got, the more I realized that that's about as macho a thing as a man can do. I don't have any problem shedding tears now. And I'm sure there will be tears shed.
"I'm appreciative as hell they want to do something to honor my career, but at the same time I'll be very, very uncomfortable with it. I've worked in a great town; I've helped to raise three kids. This town offers you everything it could possibly offer you. I don't need anything else. I'm good."•
__________
Lopresti is a lifelong resident of Richmond and a graduate of Ball State University. He was a columnist for USA Today and Gannett newspapers for 31 years; he covered 34 Final Fours, 30 Super Bowls, 32 World Series and 16 Olympics. His column appears weekly. He can be reached at mjl5853@aol.com.
Please enable JavaScript to view this content.