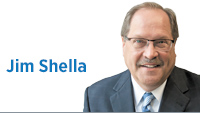 I'm a political junkie and yet I made no plans to watch the first debate among Democratic candidates for the 2020 presidential nomination. I went to a ballgame instead. Then a friend, another political junkie, called to see what I thought of the debate. I wondered: Is my junkie status in jeopardy?
Nevertheless, on the night of the second debate, I went ahead with dinner plans and missed most of that one, too.
Understand, this is coming from a guy who live-tweeted during all the presidential debates in 2016. (Yes, I'm the guy who compared debating Donald Trump to a conversation with my crazy brother-in-law.) I generally love this stuff. But I had adopted the position that the campaign season is too long and that June debates in the year before the election amount to preseason games: They don't count.
Then I watched the last 20 minutes of the second debate after returning home from dinner. And I listened to podcasts and read news reports about what took place. I realized that it's not preseason. The regular season is well underway.
Candidates are making positive impressions on donors and supporters. (See Kamala Harris and Pete Buttigieg.) Some are demonstrating that they don't have the gravitas to compete. Consequences are real.
The early start to the campaign season can be attributed to one factor: Trump is vulnerable. Democrats smell blood in the water, and they can't wait to go after it. So, there are more than 20 Democratic candidates. And many of them are having fundraising success. Something needs to be done to make that a manageable field in short order.
That's where the Democrats have a couple of serious problems. First, an old bromide in politics says you can beat somebody with nobody. Trump is somebody. Most of the Democratic candidates are currently nobodies.
Second, Democratic Party leaders who might be tempted to manipulate the process in favor of one candidate or another have their hands tied. That's because the party leadership upset its own people when it rigged the game for Hillary Clinton four years ago. Clinton's legacy continues to grow and it's not a good thing.
Sure, Joe Biden and Bernie Sanders currently have poll numbers that appear much bigger than the rest. But Biden didn't do well in his first debate and the argument that this election is about the future (not the past) both resonates with voters and works against him.
Politically, Sanders is a dead man walking in my view. His ideas for Medicare for all and college loan forgiveness are pie in the sky. How do you forgive a loan that a student agreed to pay back? And you get the money by taxing Wall Street? That's my money being passed around on Wall Street, right?
I paid off my student loans and then I paid off portions of the student loans taken out by my children. Why should I pay for your child, too?
If those two guys fade, it's a wide-open field. And I predict that will happen.
In the meantime, I'm going to learn how to pronounce Kamala and Buttigieg.
The regular season will become the playoffs soon enough, with two or three Democrats battling it out for the opportunity to go one-on-one with Trump. I'm going to be live-tweeting a lot more in the future.•
__________
Shella hosted WFYI's "Indiana Week in Review" for 25 years and covered Indiana politics for WISH-TV for more than three decades. Send comments to ibjedit@ibj.com.
Click here for more Forefront columns.
Please enable JavaScript to view this content.