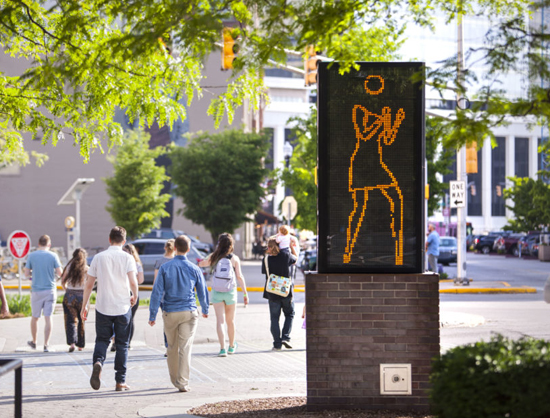 Indianapolis Cultural Trail Inc. officials announced Wednesday that they've raised enough money to keep a popular electronic piece of public art in operation for years to come.
The Keep Ann Dancing fundraising campaign has raised almost $200,000 through the crowdfunding portion of the campaign alone, officials from the not-for-profit said.
That's enough money to "replace Ann Dancing by Julian Opie with new technology and hardware and establish an Ann Dancing maintenance fund which will keep Ann Dancing on the Cultural Trail for years to come," the group said.
Originally designed to be a temporary installation, Ann Dancing is more than 10 years old and is the oldest piece of public art on the Indianapolis Cultural Trail. She is installed at the intersection of Massachusetts Avenue and Vermont Street in the Mass Ave Cultural District.
The fundraising campaign, announced May 30, aims to raise at least $262,800. Organizers said the funds would be used to purchase and install new display units for Ann Dancing that are designed for 24-hour operation in all four seasons. The technology upgrades will allow the piece to be updated remotely.
Funds also will go toward additional public art on the Indianapolis Cultural Trail and enhancements to and maintenance for Ann Dancing's plaza on the trail, organizers said.
The crowdfunding campaign received donations ranging from $5 to $2,500 from almost 1,200 individuals in 32 states, officials said. About 20 corporations have contributed to the campaign.
The Cultural Trail expects to announce a timeline for upgrading Ann Dancing in coming weeks.
 
The Indianapolis Cultural Development Commission and the Indianapolis Cultural Trail split the $150,000 tab to buy Ann Dancing in early 2008. The purchase was made following a temporary exhibit of Opie's public art took place in 2007.
Opie, 61, emerged in the 1980s as part of the New British Sculpture movement, a group of artists, sculptors and installation artists that included Tony Cragg, Richard Deacon and Richard Wentworth.
Please enable JavaScript to view this content.