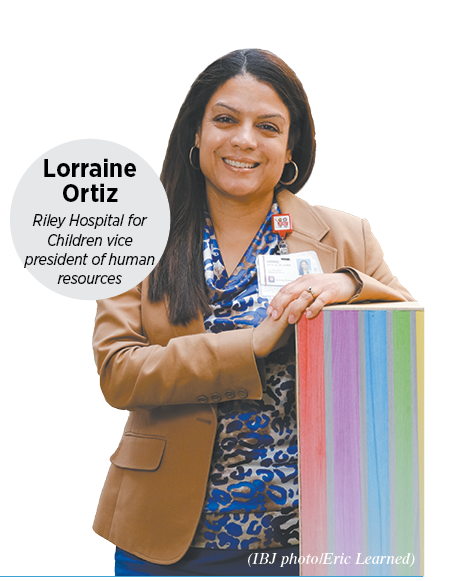 Lorraine Ortiz, 45, was the first in her family to go to college. Her mother was a hospital housekeeper. Her father was a truck dispatcher. As a young girl, Ortiz decided she wanted to pursue a career in health care. She now works as vice president of human resources at Riley Hospital for Children, part of Indiana University Health.
How did you make the jump into health care?
When I was living in California, there was a hospital down the street within walking distance. I was a candy striper. I liked it and really, really wanted to work in health care. So I went to law school (at Santa Clara School of Law), graduated and tried to get a job. And no one would hire me because I didn't have direct health care experience. I thought that that dream was just kind of gone. And I found my way into deep-discount retail, 99 Cents Only Stores [as an HR manager]. And I loved it.
But then we moved from California to Indiana. And I started working at Goodwill, and I liked being in the nonprofit sector. And then IU Health West Hospital in Avon had an opening. So I realized, there might actually be an opening for me now.
I interviewed with 26 people. So in the same way that they were interviewing me to see if I could fit within their culture, I was also evaluating them. Could I work with all of these different types of personalities? And I left so excited. And I was so grateful that they said, "Despite not having health care experience, you bring fresh eyes. And we'd love to have you come aboard." I went to West Hospital for about six to seven months, and then I transitioned to Riley.
As an HR executive, what's the most common mistake you see from job candidates?
Not being honest. They assume that they may not have all of the qualifications. And no one will have 100% of them. But we're looking for passionate, honest people. So just be honest about what you bring and the experience that you have here.
What's the most common misconception of a human resources executive?
That we're there just to hire and fire. We're truly there to partner, to help move the business strategy and align our most invested resource, our talent, to meet those objectives.
Job candidates are told to have an elevator speech to pitch themselves to hiring managers. Do you have one for Riley?
For people who are extremely passionate about work with children and families in very vulnerable states, this is the place to work. You will find no more higher accomplishment or feeling of joy around working at Riley. We have a very, very strong team. We are ranked eighth for research funding. We partner with the Indiana University School of Medicine. So we have a very good culture and the work that we do, it's not a hard sell.
What's your plan in this challenging labor market to fill all your openings?
Our focus is twofold. Number one to really focus on our culture and the mission work that we do with Riley Children's Health. And then secondly, really tap into the people who want to work in that area. And then talk about the career development. So we are so blessed to be attached to IU Health and there are plenty of opportunities. We are 34,000 people strong.•
Please enable JavaScript to view this content.