The Eiteljorg Museum is expanding its free admissions opportunities, thanks to a fund created in memory of a former staff
member.
The Leon Jett Minority Family Admission Fund has raised money to allow admissions at the Eiteljorg Museum
of American Indians and Western Art for families enrolled in Hoosier Works or Hoosier Healthwise.
Martha Hill,
the museum's vice president for public programs, said Jett, who died in February 2007, was passionate about making cultural
experiences accessible to everyone.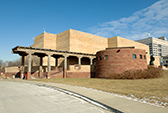 The Eiteljorg Museum offers free admission to disadvantaged Hoosiers. (IBJ File Photo)
"Leon was a
strong proponent of telling the story of diversity in the West," Hill said. "He wanted all visitors to feel welcome,
and he planned programs and experiences for all audiences."
The fund was started by a group of friends
and artists, and it continues to raise money through art auctions and family celebrations.
The museum also offers
free admission to kids who attend with their Big Brothers or Big Sisters and Indianapolis Public Schools groups and teachers.
To receive free admission, guests should show their Hoosier Works or Healthwise cards, ID cards issued by Big Brothers
Big Sisters of Central Indiana, or proof of employment at IPS.
Under a separate program, all Indiana teachers
receive free admission.
Please enable JavaScript to view this content.