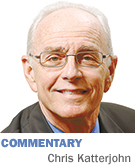 The Hoosier State Press Association, a trade group representing 175 paid-circulation Hoosier newspapers, including
IBJ, has launched a campaign designed to remind the public of the important role newspapers play in our democracy.
So this week, I'm ceding my space to David Stamps, executive director of the HSPA and business neighbor (the
association is headquartered on the third floor of our building).
OK. Show-of-hands time. How
many of you reading this column have ever attended your city council or town board meeting? Hmmm, I see a few hands waving.
How about during the month of September? Not many hands left aloft.
How about every city council or
town board meeting the last year? Last five years? Last 10?
Don't see any hands up now.
Question:
Do you know who has attended all these meetings?
Answer: Reporters from newspapers.
Like a lot of good
things about this country—things like expecting clean water to come out of your tap when you open it, or that the police
or fire department phone will be answered when you call—newspapers and the job they do on behalf of the public get taken
for granted.
But some people think that might be changing. They're worried that newspapers are becoming more
a part of the past than the future.
Yes, newspapers, often called collectively, The Press—despite being the
only profession specifically protected by the U.S. Constitution—are encountering difficulties these days not imagined
only a few years ago.
Oct. 4-10 was National Newspaper Week.
This observance used to be more of a salute
to the role newspapers play in keeping the public informed, but this year has been given new immediacy as we read of venerable
newspapers closing or going to Web-only publication, of household-name newspapers like the Chicago Tribune filing
bankruptcy, of the two major newspapers in Detroit eliminating home delivery four days a week.
Now that's
pretty grim news, and there's more of it.
But it's news that gives a distorted picture of the newspaper
industry.
Most newspapers in Indiana, while suffering through the same economic doldrums that nearly all businesses
are experiencing, are still hard at it: covering city council and town board meetings; attending school board meetings; reporting
from the police and sheriff's stations; covering high school sports; printing honor rolls; tromping around the county
fair grounds to count blue ribbons; and printing obituaries, birth and engagement announcements, and 50th anniversary wedding
stories.
And lots, lots, lots more. (Publisher's note: like covering the central Indiana business community,
Dave.)
Think what your town would be like without a newspaper. We could all just blog ourselves to death, but about
what? Newspapers, we like to say, write the first draft of history; bloggers, Googlers and the other news "aggregators"
feed off that.
So, despite all the changes in how we can receive news and information these days, we still need
newspapers.
And, Newspapers Still Deliver.
That's the theme of a campaign Indiana newspapers began
promoting last week.
And, although we don't need a National Newspaper Week to kick off such a campaign, this
is as good a time as any to remind you, our readers, of how important newspapers are to society collectively and this community
specifically.
Thanks for reading this newspaper.
Thanks for patronizing advertisers choosing this newspaper
to run their ads.
Thanks for caring that an important part of our democracy—that part guaranteed by the First
Amendment—remains a part of the future.
Yes, newspapers still deliver—for you.•
__________
Katterjohn is publisher of IBJ. To comment on this column, send e-mail to ckatterjohn@ibj.com.
David Stamps' e-mail address is dstamps@hspa.com. <
Please enable JavaScript to view this content.