Indiana State Museum CEO Barry Dressel likes to tell the story of the docent who was wise enough to begin tours by asking
visitors, "Where are we?"
The answers revealed much about the museum's poorly defined identity.
Visitors often thought they were at the Indiana Historical Society. In other surveys, Dressel said, people have said the state
museum was about government.
It's hard to blame visitors. The collection includes everything from fossils
to historical artifacts to fine art. To confuse matters further, the museum heavily promoted traveling shows like Lord of
the Rings and Chocolate, which told the scientific and cultural history of the candy.
Hired two years ago, Dressel
set out to make the museum's diverse collection "hang together." The museum finally
has a brand—it bills itself as a "center for science and culture"—but don't
expect a splashy campaign.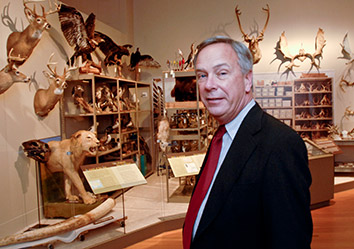 CEO Barry Dressel is ratcheting up fund raising to help offset declining state support. (IBJ
Photo/Robin Jerstad)
The museum and 12 historic sites around Indiana are
part of the state Department of Natural Resources. State budget cuts have spared
personnel and salaries, but marketing and programs took a major hit.
State funding for the
museum, $5.96 million in the fiscal year that ends June 30, has fallen 21.5 percent
since 2007. The marketing budget, meanwhile, is down 50 percent, to $205,000, over
the same period.
As a result, Dressel expects attendance to drop 20 percent this year. That's
after sliding 13 percent last year, from 163,706 in fiscal year 2008 to 142,647.
The museum opened in its current
home on the Central Canal in 2002 with blockbuster attendance of 260,000.
Dressel hopes to turn the museum around
by renewing private donor support. At the same time, he said, "When you have a marketing budget drop like ours did,
you can do a lot of things to take up the slack, but it's going to hurt you.
"We're also trying
to be realistic about what happens when you grow quiet in the marketplace."
Competition
Museum professionals don't like to talk about competition, but that's what Dressel faces.
Just east on the canal, the Indiana Historical Society is working toward the spring unveiling of new technology-heavy
exhibits. Two of the city's most-recognized institutions, the Indianapolis Museum of Art and Children's Museum
of Indianapolis, continue to dominate billboards.
For a city of its size, Indianapolis is especially rich in
museum offerings, said James Chung, president of Reach Advisors, a New York firm that does strategic marketing research for
museums and other industries.
"It's ridiculous how many good museums that town has," Chung
said. The good news, he added, is that people who like museums tend to visit multiple types.
That means the challenge
is to carve out an easily identifiable niche. Successful museums like Conner Prairie tend to "obsess" over their
brand identities, he said.
There's a reason "science" comes first in the state museum's
new tag line. The city doesn't have a museum devoted to science, Dressel noted. The bulk of the state museum's
collection is in natural history, and it has the expert staff to back it up.
Dressel intends to make science
the platform for launching touring exhibits, starting in 2013 with a show about obesity.
Eli Lilly and Co.'s
corporate foundation provided a startup grant for the $2 million exhibit. The state museum is partnering with the Science
Museum of Minnesota. The concept, Dressel said, is to put eating habits and lifestyle in a historical context.
Science has proven to be a good hook for other museums in town. ScienceWorks is a popular section of the Children's
Museum. Conner Prairie, a living history museum, is introducing more science-based fare, starting with its ballooning exhibit.
"Everybody is recognizing there's a gap in the community in terms of science," Conner Prairie
CEO Ellen Rosenthal said.
Vital fund raising
Almost all of the
state museum's strategy will depend on fund raising.
State funding for programs this year is a mere $147,362.
The budget cuts have already caused revisions and delays in another long-planned exhibit about corn.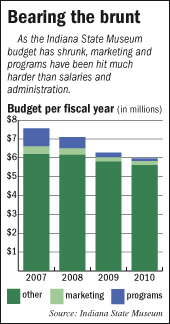 Dressel doesn't expect state funding to return to its pre-2007 level. That means
the private Indiana State Museum Foundation Inc., which pays Dressel $143,257 a
year, must play a larger role.
For the current fiscal year, he set a fund-raising
goal of $1.6 million, double the amount raised last year. Dressel, a dry-humored 62-year-old, makes so
many cocktail party pitches that he calls himself a "talking hors d'oeuvre."
But he has not proven to be a fund-raising powerhouse. Dissatisfied with his own progress,
last spring he hired the former president of the foundation, Ron Newlin, as chief of fund raising.
Newlin was instrumental in raising $35 million to supplement the cost of the museum's
current home. The General Assembly allocated $65 million for the 230,000-square-foot, glass, steel and limestone building.
Dressel, who came from the Walter P. Chrysler Museum in Auburn Hills, Mich., is the state museum's fifth
CEO since 2000. The revolving door of leadership meant the foundation put off establishing an endowment, but Dressel plans
to tackle that as well.
In an effort to excite potential donors about the state museum's mission, Dressel
describes it as the "soul" of Indiana, where Hoosiers can learn surprising things about themselves. Most people
think of corn and basketball, for example, but the museum staff is contemplating an exhibit on ultra-competitive high school
bands.
All this is in preparation for a milestone that's fast approaching, at least in museum time: the
2016 bicentennial. Dressel wants to dispense with the tedious chronology in the core exhibits and introduce more narrative
"juice."
"We're talking about giving it a lot more attitude," he said.•
Please enable JavaScript to view this content.