A troubled low-income housing project called Caravelle Commons has a new owner with plans to redevelop the complex to better
connect with the Herron Morton Place neighborhood.
Next door, the grocery chain Kroger has revived efforts to acquire
land and plan a new supermarket at 16th and Central Avenue to replace a cramped, old-format location. The chain bought the
corner a few years ago, closed on a vacant parcel that was previously part of Caravelle earlier this year, and is negotiating
with the owner of another vacant lot.
Together, the developments could represent a turning point for a blighted
stretch of 16th Street that has bedeviled the surrounding neighborhood for years. Community groups aren't getting hopes
up just yet; talk of redevelopment along the stretch has been buzzing for at least a decade.
But they are encouraged
by plans to either drastically revamp or replace the 65-unit Caravelle, which sits on about seven acres north of 16th Street
between Central and College avenues.
The Indianapolis Housing Agency bought the complex in March from the Near
North Development Corp., which took over the failed co-op in 2003. Near North stepped in to refinance, renovate and stabilize
the property with an eye toward eventually selling it to a more appropriate owner, said Michael Osborne, the group's
president.
Demolition likely
The 1970s suburban-style complex sits
in the middle of a historic urban neighborhood and invites crime with its dead-end streets and fenced-in apartment homes that
surround crowded parking lots.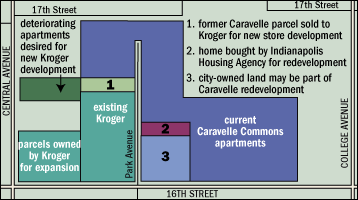 The housing agency, which administers the federal Section 8 program, used a grant of about
$400,000
from a city housing trust fund to acquire the property and begin drawing up plans for redevelopment.
The agency already has won stimulus grants it expects to apply to the project's cost and also plans
to apply for low-income housing tax credits. The group declined to provide an estimate of the project's
ultimate cost.
At a minimum, the Indianapolis Housing Agency plans to reopen Park Avenue,
which now dead-ends in the complex, and take down fences that surround the apartment buildings.
But there's
a "good chance" the plans will involve demolition of the existing complex, at 1643 N. Park
Ave., and the construction of a more urban-looking replacement, said Bruce Baird, the group's director of strategic
planning and development.
"We don't like the layout—it's very nonurban," Baird said.
"It's a typical 1970s urban renewal project that doesn't fit within the neighborhood at all."
The agency would like to rebuild the apartments on an expanded footprint; it just bought a boarded-up home adjacent to the
existing complex and is talking with city officials about taking over a city-owned parcel at the northeast corner of 16th
Street and Park Avenue that would be ideal for a mixed-use building, Baird said.
Neighbors are eager for improvements
they see as long overdue.
"We are dying for something to happen there. We are waiting with bated breath,"
said Kellie Welborn, a board member of Herron Morton Neighborhood Association.
Welborn said her group wants to
improve the neighborhood for all residents, including those of Caravelle.
The housing agency hopes to hold on to
current residents of the complex, which now is 100-percent occupied. The group has promised the neighborhood an update on
its progress in December.
Grocery coveted
Neighbors are so eager
for a full-service grocery store that they briefly considered boycotting the existing, 22,000-square-foot Kroger before deciding
that visiting frequently could be more persuasive, Welborn said. One worry for some: the impact on the neighborhood of a potential
Kroger fuel station.
Kroger already owns about an acre at the northeast corner of 16th Street and Central Avenue
and has an option to buy another parcel to the north from the King Park Area Development Corp. It bought a vacant portion
of the Caravelle property behind its existing store, and the chain also recently opened negotiations with the owner of a vacant
lot at 1625 Central Ave. that's listed for $49,900.
"There's been talk of a Kroger going in
there for eight years," said Mark Jones, whose locally based Copasetic Investments bought the lot from a bank about
18 months ago. "I think it would be a savvy move on Kroger's part. There's not a newer grocery store in
the area, and with all the growth I'd say there's a need."
Kroger spokesman John Elliott said
the chain has had trouble acquiring all the real estate it would need for a new store but hasn't given up. The chain
is in an "expansion and investment mode" in Indianapolis; it just opened a new store at 71st Street and Binford
Boulevard, is building another in Nora and a third is in the works for West Carmel.
Workers last week were installing
new fixtures in the produce section and doing other work to spruce up the 16th Street store. Kroger will monitor whether that
investment provides a boost to sales before it decides how to proceed, Elliott said.  
A few properties could
prove pivotal to a potential new Kroger store: A row of three boarded-up and graffiti-covered 1930s apartment buildings that
occupy a large lot between Central Avenue and the existing store. Two of the buildings are owned by local investors John Sherby
and Steve Blankenship of S&B Investments and a third is owned by an affiliate of Countrywide Mortgage.
S&B
had hoped to acquire all three for a redevelopment but couldn't secure financing to buy the last one, so the company
is offering its buildings for sale at $49,917 each, said Stacy Sheedy, the registered agent for the company.
"He
would be more than happy to sell to Kroger if he could," she said of one of the two owners.
The third building
could be tougher to acquire: It is saddled with more than $100,000 in liens, more than the building likely is worth.•
Please enable JavaScript to view this content.