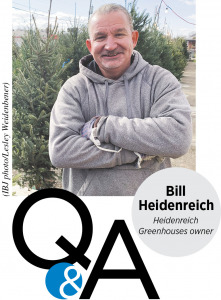 Sherry and Bill Heidenreich have owned Heidenreich Greenhouses on the city's south side since 2000.
But Bill has been in the business all his life. He's a fifth-generation owner. "My dad had it before," he said, "and then it keeps going back" generations.
Still, he's never seen a year like 2020. It started with a spring in which he sold every single plant he put in the retail nursery, at 502 E. National Ave., and it's ending with a flurry of Christmastree sales.
IBJ talked with Bill Heidenreich about the strong year.
What does Heidenreich Greenhouses sell?
Our bread and butter is spring business—bedding plants, perennials, annuals, hanging baskets, flats, mixed pots, patio pots. Wholesale and retail.
Then after that, we get into fall, which is wholesale and retail. Mums, ornamental cabbage and kale, asters, a lot of fundraisers.
Then after that, we get into the Christmas trees. And believe it or not, a week from now we start planting Easter lilies. That's all wholesale. It goes to churches and flower shops.
Do you grow everything except the Christmas trees here on site?
Yes. We have just short of 40,000 square feet of space. There's about 13 greenhouses that run to the north of right here.
And how long have you been at this spot?
Since 1956.
What was your plan for the Christmas season this year?
We saw some news stories on television and in the papers about how more people are staying home and they want to get an early start [on Christmas decorating] because they want something to do. So, we sat down and talked about it and we almost doubled our tree count from last year—and opened up about a week earlier than normal. And it's been beneficial. It's been strong, very strong.
Do you expect to sell out?
We do. It always depends on how Christmas and Thanksgiving fall in the year. Sometimes, you only have four weeks before Christmas; sometimes you have almost six, which is this year.
The busy weekend is right after Thanksgiving and then the following weekend. But there's another [weekend] that's still two weeks away from Christmas. So that helps.
How many trees do you expect to sell this year?
Just short of 450. We had 250 the previous three years—and sold out last year. And then with everybody staying home, we just bumped it up to almost 450 trees.
Overall, what has this year looked like for your business?
It's been phenomenal. And it makes us sick, because people are dying from that COVID, and it's benefiting us.
Anybody in the green business has had a tremendous season. Life best. I mean, it's just been crazy. There's only three of us [local greenhouses] left. One of them closed the third week of May because he sold all his stuff. The other one sold out the end of May. And we sold out of everything we grew mid-June. We didn't throw anything away.
We've never had that, not since the '80s.
People were stuck at home. They were remodeling, repainting, fixing this up, fixing the garage up, cleaning out the closets, going to get new systems. I mean, everybody was busy, at least small businesses were, and even the chains. They were busy, too.
Where do you get your Christmas trees?
They come from Hart, Michigan. From a place called KP Tree & Nursery.
And what's the most popular tree?
Fraser Firs. We have them from 5 to 6 foot up to 14 foot. The most popular is probably 8 to 9 feet.•
Please enable JavaScript to view this content.