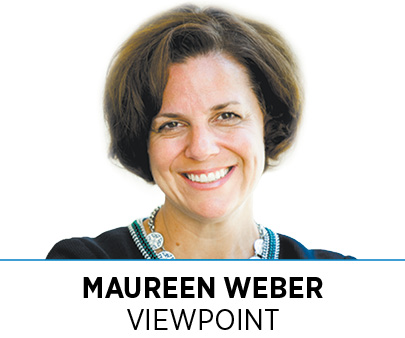 As talent preparation, from birth through post-secondary education, increasingly and deservedly takes center stage, we cannot allow ourselves to be distracted from one simple truth that warrants our focused attention: We aren't preparing children, especially Black and Hispanic children, with the skills that will enable them to flourish. Because we value a thriving workforce and vital community, this is a reality we cannot ignore.
A recently released report from the Business Equity for Indy's Learning and Talent Opportunities Task Force makes clear that our ability to fill jobs, board positions and community-leadership roles with diverse talent is severely limited by an uneven playing field. Far too many Black and Hispanic students are falling behind in K-12 education, receiving waiver diplomas, not pursuing post-secondary education and failing to complete post-secondary degrees.
The statistics from the task force's report are sobering. In 2018-2019, 15% of Black students and 19% of Hispanic students in Marion County passed the ILEARN exam, compared to 45% of their white peers. Black high school graduates were nearly twice as likely as white graduates to receive waiver diplomas. Of the more than 3,000 Black high school graduates in Marion County in 2012-2013, only 14% completed a two- or four-year college degree at a public institution in the state within six years.
To reverse these trends, we have to build from the ground up, starting with the very beginning of our talent pipeline. Differences among students' academic and social skills are observable by kindergarten, so our work must start long before children reach the schoolhouse door.
As president and CEO of Early Learning Indiana and a task force member, I am confident that the way forward starts by ensuring all children have access to high-quality early-education opportunities. Indeed, we know the foundation for learning is established in the first five years of a child's life, when children develop flexible thinking strategies, discover how to persist through challenges and grow curious about the world around them. Quality early-education experiences, coupled with nurturing relationships, build the sturdy brain architecture and essential skills that enable children to succeed.
While there is work ahead for all stakeholders, the task force provides a clear set of actions central Indiana businesses can take to help turn around these trends and set up our Black and Hispanic students for a lifetime of greater success.
For starters, employers can help their team members access early-learning services by establishing a pretax benefit program, like a dependent-care account or an education savings account. Depending upon their size and appetite, businesses can also reserve seats for employees' children at local early-learning programs, establish their company's own onsite or near-site early-learning program, or simply share information about the benefits of high-quality early learning.
Any of these steps will not only impact employees and their children, but also improve the company's bottom line, as absences and lost productivity due to child care problems are a costly and well-documented problem.
Racial disparities in education and employment opportunities threaten our community's vitality and the strength of our workforce. The task force's recommendations offer practical ways for businesses to respond to this challenge through targeted investments in early learning and throughout the talent pipeline. Let's recommit to ensuring all children in our community have access to the high-quality educational opportunities that are foundational to their contributions later in life.•
__________
Weber is president and CEO of Early Learning Indiana and a member of the Business Equity for Indy Task Force.
Please enable JavaScript to view this content.