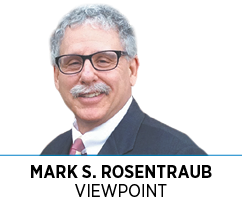 College sports, while not essential, is a vital part of life for many. Going without it pales in comparison to the sacrifices made at hospitals every day, but the absence of normalcy weighs on everyone. Let's challenge ourselves to restore college sports for the next academic year.
To play next year, we need a commitment to disinfection procedures, fan screening and massive screening in each Big Ten state. Progress on ways to sanitize arenas, ballparks and stadium could be deployed in 2020. Before students can compete, we need to join together to support testing (and screening) on a scale that other countries have achieved.
In the post-9/11 environment, new procedures gave fans and players the confidence that sports would be safe. Safeguards have largely worked, which should give us confidence that we can succeed again in the face of a new challenge.
We need technology to screen everyone at a venue. The absence of an elevated fever does not address spread that occurs before symptoms are visible. That is why we need eight or nine months to deploy massive testing for infection. I know that, with sports on the line, Buckeyes, Wolverines, Badgers, Hoosiers, etc. will mobilize to make sure the needed screening is done.
But what would a shortened season look like? That's the fun part; let's do something different.
There are 14 universities in the Big Ten Conference with football and basketball teams. Football would begin Feb. 6, 2021, with a 10-game season with an off week. Each team would play its division rivals (six games) but, to reduce travel, would also play a second game with nearby rivals.
So, yes, Michigan would play Michigan State and Ohio State twice in the same year and also play Indiana twice. An additional game against nearby Purdue could also be played. Maryland and Rutgers would play additional games against each other and Penn State, but they would need to fly to other opponents. In designing the fun schedule for the next season, travel time must be minimized. There would be no national champion, just league champions for the 2020-2021 season.
Now turning to basketball and hockey, those seasons would begin Jan. 9 and continue for 10 or 11 weeks. With only seven teams in the Big Ten Hockey League, each team would play every other rival four times, for a total of 24 games. The top four teams would meet for a single-game elimination tournament to crown a champion. The NCAA tournament would take place in early May.
With 14 teams playing basketball, each team would play each other twice, producing a 26-game schedule. A single weekend tournament limited to four teams would produce a Big Ten Champion. This would also leave time for "April Madness."
Focusing on sports in the aftermath of job losses that now surpass 24 million seems insensitive. Yet, there is value in coming up with realistic plans for sports—something we can rally around. This plan requires cooperation, but if you miss college sports as much as many of you say, let's support a plan that protects students, fans and our communities.•
__________
Rosentraub is the Bickner Endowed Professor of Sport Management at the University of Michigan and a former faculty member at IUPUI.
Please enable JavaScript to view this content.