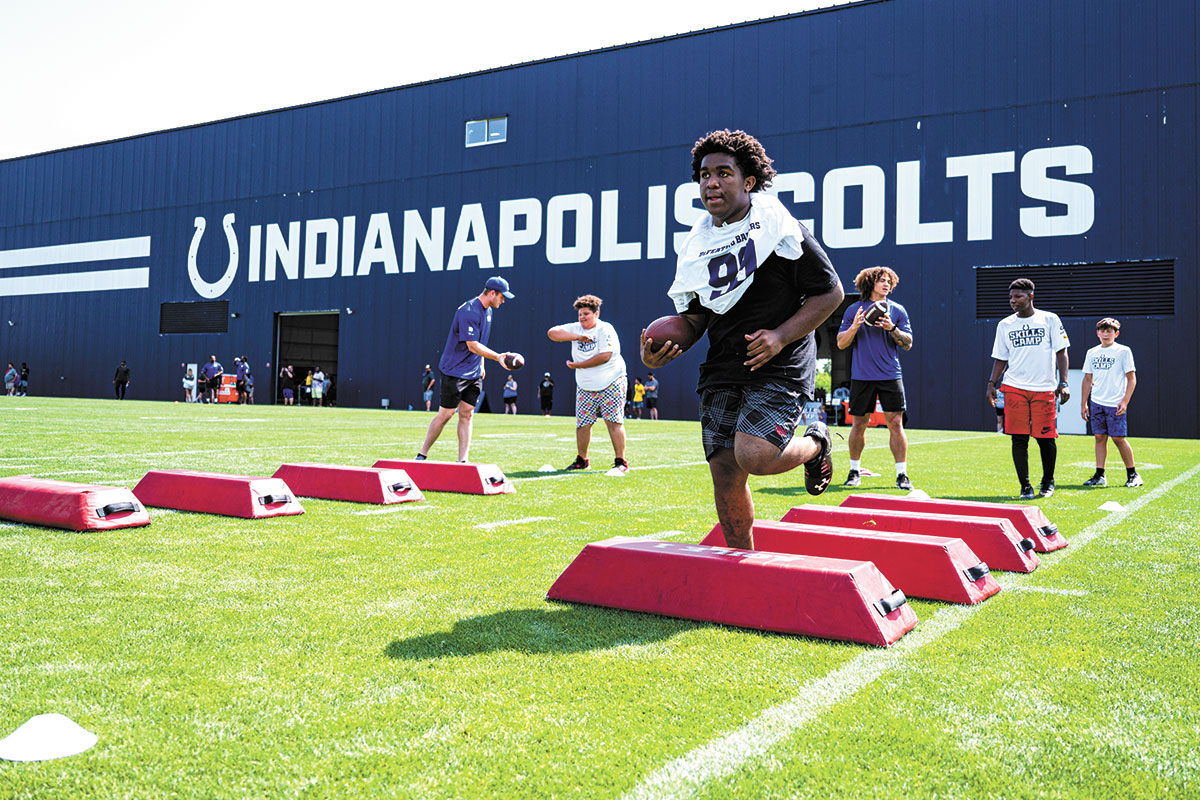 The city's professional sports franchises are leaning heavily into youth sports—hoping to create lifelong fans or even a talent pipeline—by sponsoring recreational leagues, hosting skills camps and clinics, or even creating travel programs.
Team involvement often goes beyond simply licensing names and logos for a program's marketing materials. In most cases, franchises work closely with their partners to meet those programs where they are, often providing grants for equipment or participation fees and at times providing direct administration of youth programming.
For more than a decade, both the Indianapolis Colts and Indianapolis Indians have been entrenched in their respective sports at the grassroots level. The Indians have sponsored youth baseball programs since the early 2000s, while the Colts have helped community recreational football leagues like Indy Youth Sports with equipment donations and other significant costs.
And Indy Eleven, which was established in 2013, has supported youth soccer leagues in cities that include Bloomington, Indianapolis, Terre Haute, Noblesville and Fort Wayne—all while building up what are called academy programs to offer more competitive, travel-focused options for top-notch athletes. The Indy Fuel has similar programs focused on hockey.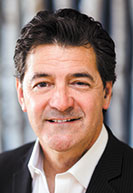 "The pro leagues and pro teams have gone right to the entry level of youth sports and are trying to introduce the game in local, low-cost form. And I think it's great," said Tom Farrey, founder and executive director of the Washington, D.C.-based Aspen Institute's Sports & Society Program, which focuses on childhood development through sports.
"We need solutions that are going to revitalize in-town recreation leagues, to make sports more accessible to more kids in all environments," he said. "An [alternative] to the travel-team experience that is accessible mostly to kids from upper-income homes that can afford the youth sports arms race."
The global youth sports industry was valued at $25 billion in 2019, according to market research. That includes $19 billion in the United States alone, where 60 million children participate in sports every year across recreational, academic and travel-focused programs. In 2026, the global value of youth sports is expected to exceed $77 billion.
It's not clear how many children participate in sports in Indianapolis because no organization keeps tabs on those figures locally. But what is clear, experts say, is that the popularity of athletics is growing—and professional teams generally help communities stay on the leading edge.
Farrey acknowledged that pro teams' involvement isn't necessarily a "purely altruistic play," given that their participation can lead to more ticket sales, specifically from families whose children participate in youth sports. The work also helps increase brand recognition.
"There's nothing wrong with that," Farrey said. "If the leagues and teams have more of a business interest in promoting local, low-cost play and that's going to grow participation rates, more power to them."
Honing skills, and costs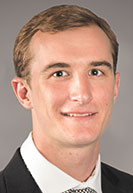 Andy Matis is youth football manager for the Colts. He said the program has evolved extensively over the years to incorporate various initiatives. Those include coach-of-the-week recognition for high school football, grants, coaching certifications and scholarships for families that can't afford to pay fees associated with a child's participation in football.
"We're really focused on giving back to youth and high school sports by using our platform as an opportunity to really amplify the good things that are happening within those areas," Matis said. "However we can amplify that, as well as put on our own events and programs to really support everything that's going on in the youth sports space, we want to do that."
Matis declined to share how much the franchise spends on its youth-sports efforts, but he said the team has "had a big amount of investment within youth sports for a long time."
As part of its initiatives, the Colts offer camps throughout the year focused on improving skills for players in second to ninth grades, including one run by defensive lineman DeForest Buckner.
Buckner's two-hour skills camp, a low-cost event held this year on June 3 at the team's Indiana Farm Bureau Football Center at 7001 W. 56th St., stems from Buckner's desire to give local youth an opportunity to learn from local, professional athletes—an opportunity he wasn't afforded growing up in Hawaii, where he played Pop Warner football.
"I was influenced by a lot of coaches throughout my life and the advice they've given me—I still apply all those things they taught me in my life today," Buckner told IBJ.
"I can't even imagine if a professional athlete gave me some advice, or just took the time to interact with me, how that would have shaped my entire world," he said. "Being able to be in this position and have that type of influence, I just want to leave an impact."
P.J. Gallagher, a Greenfield resident whose son Keegan participated in the skills camp, is a youth football coach. He said programs like the skills camp, where professional franchises are directly involved, are crucial to encouraging kids to build a lifelong connection to sports.
"I'm sure a lot of these guys know how important it is, just having someone to look up to," Gallagher said. "Just taking time out of their day to spend time with these kids—it's a huge thing. And I really like that they're doing that."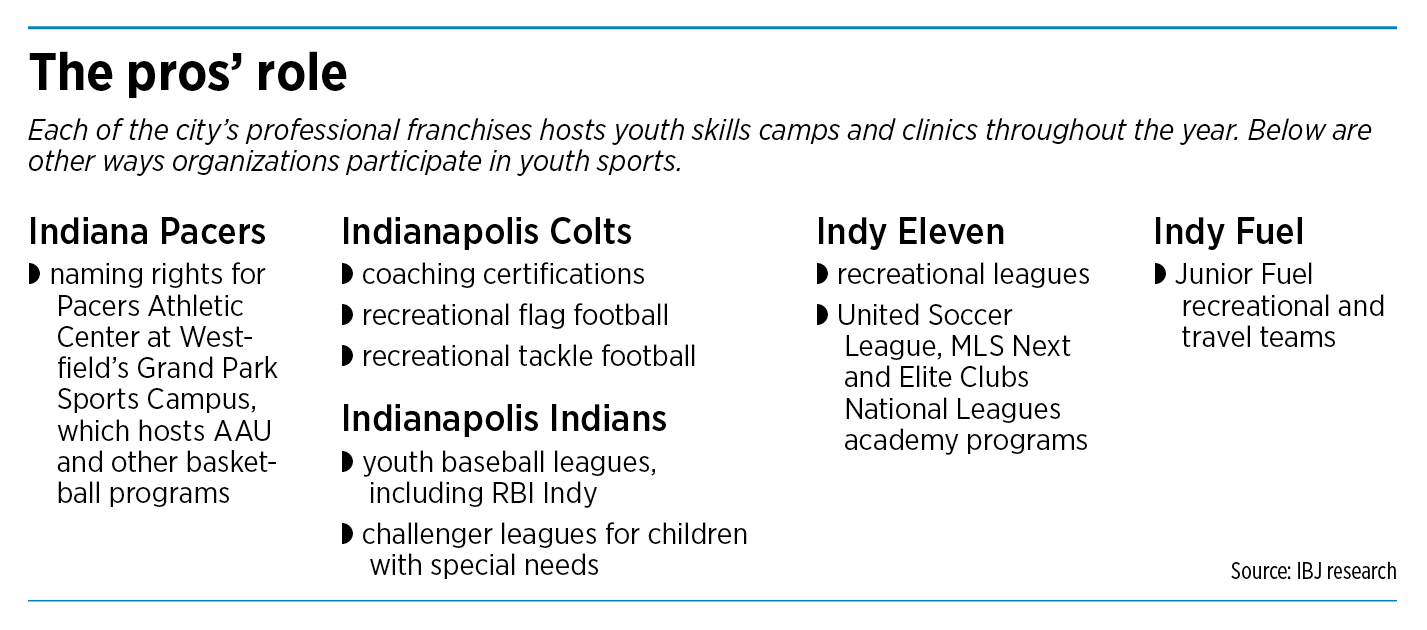 Finding opportunities
Buckner said that, beyond his camp, now in its third year, he is interested in playing a more active role in creating youth football leagues and in more directly tackling barriers to entry, like participation costs, for low-income kids.
The Aspen Institute's 2022 State of Play report, which focused on the fees associated with youth athletics, said the average cost for one season of participation in sports was $883 in fall 2022. The report considers both travel and recreational sports.
The most expensive sport, the report found, was soccer, at a cost of nearly $1,200. Tackle football was the least expensive, with a cost of $581. The average cost of a season of youth basketball was just more than $1,000, while baseball was $714.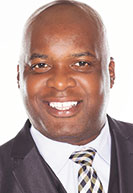 Working within local communities is a tack other professional players have taken across the country, including here in central Indiana. Emil Ekiyor Sr., who played a season for the Colts in 1998 (and whose son, Emil Jr., was signed by the franchise in April), is president of Indy Youth Sports, which runs football programs across the city.
The organization formed in 2010 as a collaboration that included Indianapolis Public Schools, Indy Parks and Recreation and several local football leagues. Its goal is to engage youth with football to encourage higher academic achievement and to build stronger values.
Ekiyor, who is also CEO of Indianapolis-based InnoPower LLC, said the Colts have supported Indy Youth Sports since its inception through equipment donations and other grant opportunities. Ekiyor said Indy Youth Sports would not be where it is today without help from the franchise.
"There is a direct correlation between having an NFL team that exists in a city and the impact youth sports has—especially in [lower-income] communities," he said. "I think that's happened here in Indianapolis, as the Colts have really been a big part of everything we've seen happen for our organization."
Indy Youth Sports largely focuses on recreational football, covering a variety of neighborhoods and platforms, including the Indy Police Athletic League Club, Tab Recreation, City Colts Football and others.
First Baptist Church of Indianapolis runs one of the largest youth sports programs in central Indiana, serving 4,000 athletes a year. As part of a $10.7 million capital campaign, First Baptist is looking to dedicate hundreds of thousands of dollars toward a scholarship fund to help support families that can't afford to pay the costs of participation, which is typically $200 or less.
In addition to ensuring affordability, the campaign's primary goals are to build a fieldhouse for basketball, create a park for families and make improvements to the church's baseball fields. First Baptist has raised $8.7 million so far.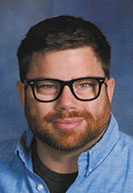 "Programs that bring people together and build community are maybe more important now than ever," said Steve Carr, executive director of First Baptist Athletics. "This teaches kids values like teamwork and accountability. I always say we're not perfect, but we strive for excellence in good sportsmanship."
First Baptist is part of the NFL Flag Football program—a licensing designation—and is interested in partnering with the Indianapolis Colts to grow its reach further and create more opportunities for its players. The Colts, as part of a league-wide initiative, have embraced flag football as an alternative path for children and families not ready to jump into traditional tackle football. The Colts sponsor several flag football leagues across the city and plan to launch a girls high school pilot program this fall.
Carr said the goal when partnering with a professional team is to keep costs of programming affordable for families. Participating in flag football for the 2023 fall season, which features divisions for boys and girls ranging in age from 5 to 13, costs $150.
Conversations with the Colts are ongoing, he said, but a partnership has not been finalized.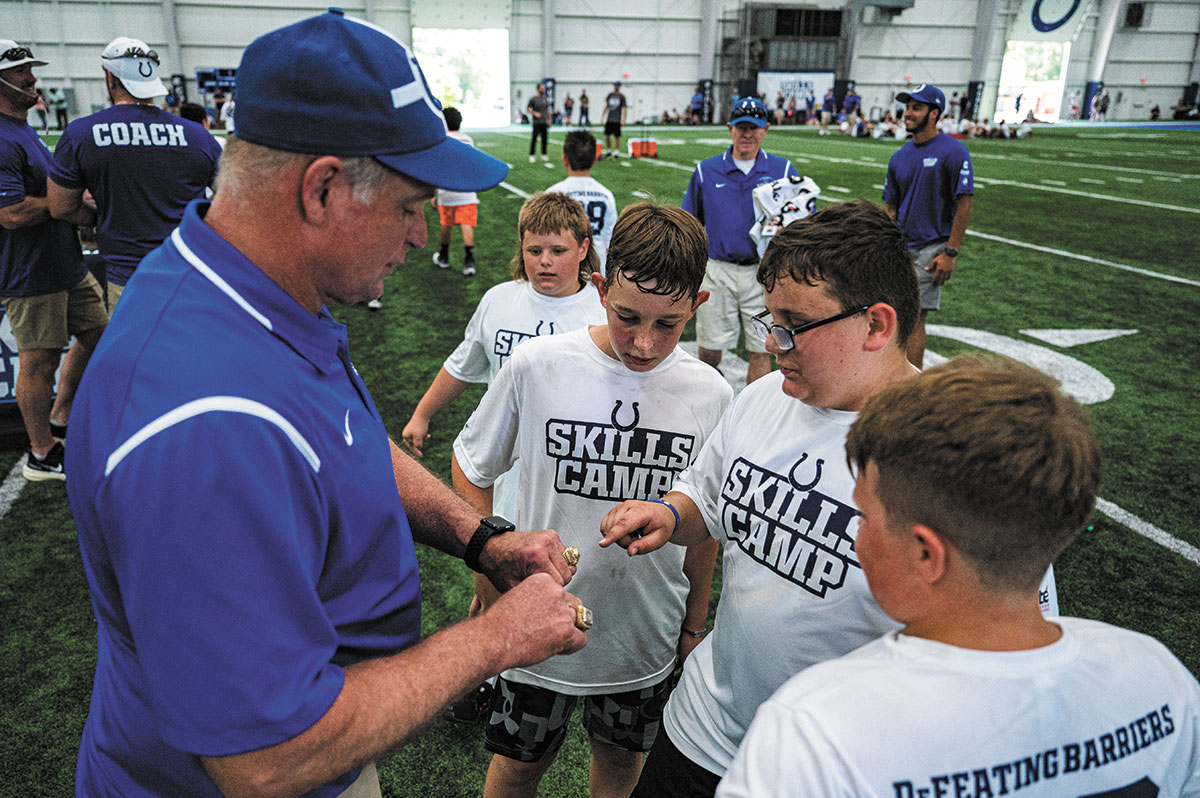 Growing a game
Professional support of local youth athletics goes beyond recreational programs.
The Indy Eleven last month announced plans to expand its presence in what's called the academy level—which focuses on top-tier youth soccer. Starting in July, the Indy Eleven will field teams in MLS Next and Elite Clubs National League through a partnership with Carmel-based Indiana Fire Pro Academy. Already, the Eleven is a partner to programs across the state that collectively serve more than 16,000 children.
Many players in both MLS Next and ECNL move into collegiate programs or to professional leagues.
Indy Eleven plans to have the MLS Next academy serve boys, while the ECNL program will support girls. The Eleven program will be in addition to existing teams that participate in the United Soccer League Academy League and USL Academy Cup program. Participation fees for the programs range from about $1,000 for athletes under 8 years old to more than $3,300 for those participating in the under-19 division. Some scholarships are made available to families with limited incomes.
Much like the USL academy teams, MLS Next and ECNL will offer multiple age divisions in both boys and girls soccer.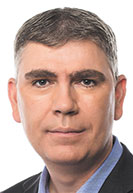 The teams are considered elite traveling programs that will compete with other academy teams in their league across the Midwest and United States. MLS Next features about 130 clubs overseeing nearly 600 teams. The ECNL features more than 750 teams across more than 115 clubs.
Greg Stremlaw, CEO of Indy Eleven, said the franchise hopes to build a stronger connection with young players and create a potential talent pipeline for the Indy Eleven and the future USL Super League women's franchise.
"The reason that we're doing this is really to provide as comprehensive an overall model, from those early stages of 6-year-olds playing in [recreational] soccer all the way through to professional soccer, both men and women," he said.
"We want kids to feel connected to the Eleven, to our crest, and to come to professional games," he said. "For those that want to go to the next level of competitiveness, this creates a true pathway to professional soccer. Will the majority of those recreational players continue on? That's up to them. We just want to provide opportunities and support youth clubs in any way that we can."•
Please enable JavaScript to view this content.