How should the City-County Building be recast?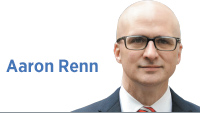 The best approach to redeveloping the City-County Building is not to redevelop it but to demolish it.
Some people will undoubtedly want to architecturally preserve the CCB. It does contain some interesting elements. But it is hardly a landmark structure. It is also functionally obsolete and with so much deferred maintenance that a redevelopment would almost surely involve large sums of public subsidy.
The CCB was also designed as a single tower on an entire city block with a large and underused plaza. This is a style of design from a generation or two ago when downtowns were struggling against decline. As with pedestrian malls, these sorts of developments are now recognized as suboptimal for today's urban environment.
The CCB and plaza are on a site that was once home to the Marion County Courthouse, one of Indiana's finest, which was demolished for the project. Having been created in an act of architectural homicide, the CCB itself should hardly be protected from meeting the same fate. In fact, it would be quite fitting for it to do so.
The opening of the Community Justice Center in Twin Aire is the start of what could be a complete relocation of all users out of the aging and obsolete CCB. All courts are being moved to the justice center, though, ideally, the civil courts would return to downtown in a first-class courthouse for Marion County at some point. The state has discussed building a state judicial building for many years, so perhaps Marion County civil courts could be included in such a project.
The mayor and his executive team, as well as the City-County Council, should be moved back to the old City Hall, which can be renovated into a home befitting a great American city the size of Indianapolis and put that historic structure back to good and public use. Other CCB users can be distributed to leased office space.
With the CCB emptied, it could then be imploded. Combined with the current jail sites, this creates a large footprint that can be redeveloped for taxable use. This would help stitch together the thriving areas along East Market, CityWay, the Wholesale District and Bankers Life Fieldhouse.
Such a redevelopment could also potentially include physical and operational improvements to City Market, which might achieve sustainability by being operated privately (while remaining under public ownership) as a food hall for a larger development à la Bottleworks District or 16 Tech. And it would allow the failed Lugar Plaza site to be developed as well. Some city functions could potentially be based in leased space as part of an office component on the redeveloped site.
In short, the simplest, easiest and most direct answer to the question of what to do with the City-County Building is to demolish and replace it as part of a larger redevelopment project of city-owned properties on the east side of downtown.•
__________
Renn is the publisher of Heartland Intelligence. Send comments to ibjedit@ibj.com.

Click here for more Forefront columns.
Please enable JavaScript to view this content.