Abdul-Hakim Shabazz, an outspoken political commentator and editor of IndyPolitics.org, plans to create an exploratory committee as he considers a potential run for Indianapolis mayor as a Republican.
On the "Kendall & Casey Show" on WIBC-FM 93.1 on Wednesday, Shabazz said he now has his wife's permission to take the next steps toward a mayoral campaign.
"I'm going to put together an exploratory committee, [and] probably do something official after Christmas," Shabazz told Kendall.
If Shabazz joins the race, he would set up a Republican primary run against Pastor James Jackson, who announced his own candidacy in late November. He would also become the fourth Black candidate in the overall race.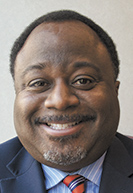 Shabazz told IBJ in September that he was considering a run for mayor.
"I'd be less than honest if I said I wasn't thinking about it," Shabazz told IBJ, adding that his decision hinges on the opinion of his wife.
Aside from running IndyPolitics.org, Shabazz is a lawyer and talk show host. He also writes commentary and has frequently contributed to IBJ's opinion publications.
On the radio Wednesday, he made clear that he isn't officially launching a campaign.
"I don't have to make a final decision until like Feb. 6, because I want to say that's the filing deadline," Shabazz said.
On the Democratic side, Mayor Joe Hogsett is running for reelection against State Rep. Robin Shackleford and newcomer Gregory Meriweather.
Republicans in the past haven't been successful against Hogsett. In 2019, former Sen. Jim Merritt lost to the incumbent, who received 72% of the vote. Merritt is a friend and supporter of Shabazz.
The other candidates will have to surmount Hogsett's $2.4 million war chest. Shackleford, who hasn't had to file a mayoral campaign finance report, had about $8,300 in her legislative campaign account as of last month. The other candidates have not yet had to file campaign finance records.
Correction: The original version of this story incorrectly said Shabazz made his comments on the "Rob Kendall Show."
Please enable JavaScript to view this content.