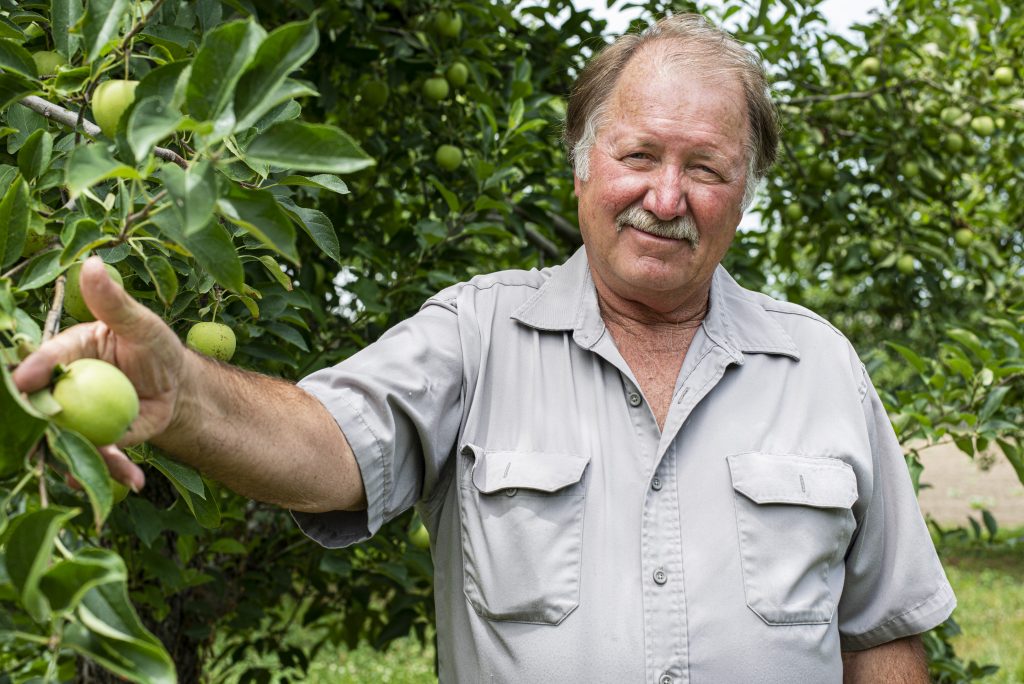 The owners of Marion County's only apple orchard have put the property and business up for sale, in hopes someone else will continue its operation.
Adrian Orchards, 500 W. Epler Ave., debuted in 1925 and has remained in the same family for three generations. But husband-and-wife owners George and Monika Adrian do not have any obvious successors to whom they can pass the orchard.
"This is really difficult, because we're basically giving up what feels like one of our children," Monika Adrian told IBJ. "It's been our life."
The Adrians had two children to whom they at one time planned to pass the orchard. But their son was killed in an accident several years ago, and their daughter lives out of state.
They said other members of the family have also indicated they don't have an interest in taking over the business.
The couple said they are only willing to sell to "the right person" who would carry on the business, and will continue operating the orchard until that person is found. They hope to sell so they can retire.
"We're not closing, let me be clear," Monika said. They declined to share their ages, other than to say that George was in his 70s.

The Adrians own about six acres along Epler Avenue—they had more than 40 but several years ago sold to a developer that created a neighborhood adjacent to the orchard—along with another 65 acres in Martinsville, where most of their produce is grown.
The Adrians declined to discuss a sale price for the business or their property, and instead are "focused on making sure it ends up in the right hands," George said.
A listing through Weichert Realtors indicates the Martinsville site, 0 E. Whiteland Road, has a price of $850,000. The Epler site and the orchard business are not listed.
The Adrians said the purchase could include one or both sites, and they are open to negotiation.
The orchard grows 40 varieties of apples, along with peaches, pears and, until recently, several types of vegetables. The Adrians have scaled back their production on vegetables in efforts to cut down on costs and their workload.
The orchard employs up to 30 people, dependent on the season.
There are several orchards around central Indiana, but Adrian Orchards is the only one within Marion County. Lilly Orchard Cafe still operates during the fall on the grounds of Park Tudor School at 500 E. 71st St., but the property no longer has an apple orchard.

Although it's one of the area's best known destinations for locally grown produce, the Adrians acknowledge it's not the most engaging.
Some area orchards feature apple picking, petting zoos and other family-focused activities, Adrian Orchards has stuck to the traditional storefront from which customers can buy its products. The orchard does offer picnic tables during the warmer months for families to eat.
"I'm sure it would have to go into a slightly different direction, rather than just strictly fruit sales," Monika said. "It has to be more service or entertainment oriented, though you're rather limited as far as the acreage here to do that."
The orchard each October hosts the Harvest Fest, which has long been a staple on the city's south-side. That is expected to continue this year, with the farm market expected to stay open until the end of the year.
"It's kind of bittersweet," George said. "But the time has come that I need to slow down. We're just trying to find the best way to move on the next phase in our life."
Please enable JavaScript to view this content.