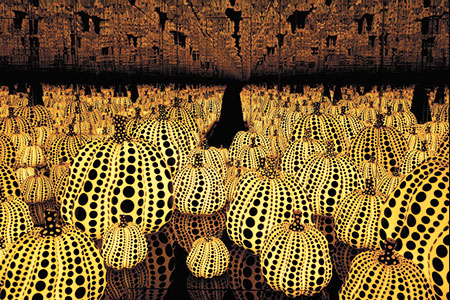 Could a 45-second experience in an elevator-size space be enough to truly take in an art exhibit?
Japanese artist Yayoi Kusama thinks so. She has designed what she calls an Infinity Room full of illuminated, polka-dot pumpkins and directed that no one be allowed to stay inside more than 60 seconds.
"All the Eternal Love I Have for the Pumpkins" will be on display at the Indianapolis Museum of Art at Newfields from the Harvest festival through early spring.
Kusama's Infinity Rooms have proven wildly popular at museums in large cities worldwide; visitors have often waited in winding, hours-long lines that snake around museums to experience them.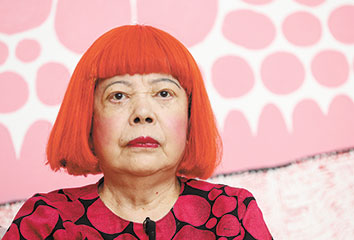 An Infinity Room is a small mirrored space, typically festooned with multiple copies of a Kusama art piece. A limited number of visitors are allowed in the space at a time and must leave in less than a minute, according to Kusama's own rules. For the Indianapolis exhibit, only two people will be able to enter at a time, accompanied by a security guard.
"You are absorbed into this space that seems to go on forever," said Michael Vetter, assistant curator of contemporary art at Newfields.
"You see your own image refracted thousands of times in every direction. The boundary between yourself and your environment is erased so there is this feeling of absorption or obliteration. The viewer becomes a part of the work. The body dissolves into something bigger than itself."
Newfields CEO Charles L. Venable and the museum's deputy director for public programs and audience engagement, Preston Bautista, visited the Cleveland Museum of Art's Infinity Rooms traveling show in 2018, admiring its energy and popularity. They decided to bring an Infinity Room to Indianapolis and arranged to borrow "All the Eternal Love I Have for the Pumpkins" from its owner, the Dallas Museum of Art. Venable worked there for 16 years.
The Infinity Room will be the only art in the exhibit, called "Infinitely Kusama." Its connection to an autumn theme and the Harvest festival is fortuitous; it also complements the museum's current exhibit, Seasons of Japan. Regardless, officials said the museum would have highlighted the Infinity Room whenever it came available. It will be open to the public until early spring.
Polka-dot pumpkins dominate this Infinity Room and dozens of other works by the artist. "I love pumpkins," the artist said in a 2015 interview, "because of their humorous form, warm feeling, and a human-like quality and form. My desire to create works of pumpkins still continues. I have enthusiasm as if I were still a child."
Instagram has spurred Kusama's popularity. More than a year ago, The Independent, a British newspaper, reported that the artist's work had been hashtagged more than 300,000 times, with superstars Katy Perry, Adele and Nicole Richie all seeking out one of Kusama's mirrored rooms for a selfie.
At age 90, Kusama is the top-selling living female artist in the world. Her artwork auctions have fetched more than $7 million for each piece.
She created an all-mirrored room for the first time in 1965.
"As man prepared to head for the moon, Kusama had uniquely grasped the public's growing awareness of infinity," noted Cath Pound, a culture writer for the BBC. "She confronted them with this unnerving concept through a seemingly
endless environment."
Vetter agreed that Kusama's work was groundbreaking.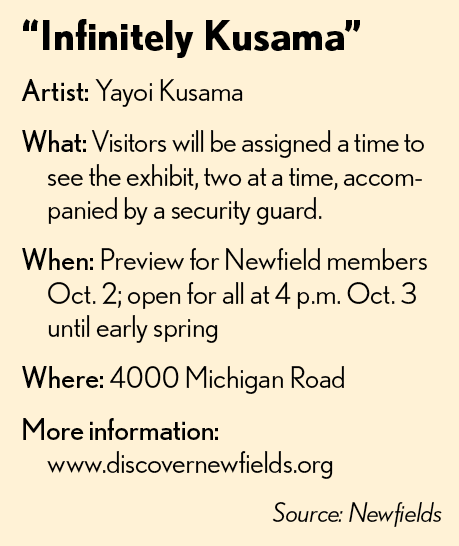 "She was so far ahead of her time in so many ways: moving beyond painting and sculpture to create work that is interactive, environmental and immersive," Vetter said, noting that Kusama's work has often explored sexuality and nudity, stemming from difficult childhood memories. For example, her first room featured penises constructed in fabric sculpture, a new medium she also helped introduce to contemporary art.
Kusama has said Andy Warhol and other male artists stole her ideas, and several art experts have agreed with her, noting how difficult it was to be a young woman artist in the 1960s, particularly so because of Americans' wariness toward Japan after World War II. Artist Georgia O'Keefe urged Kusama to come to New York so her innovative ideas and work would get noticed.
"If you're interested in how contemporary art changed the history of art, this is a great place to start," Vetter said. "It's absolutely meant to be welcoming for all ages."
Newfields members may preview the exhibit Oct. 2 or early in the day on Oct. 3 at no charge. "Infinitely Kusama" officially opens at 4 p.m. that day, when the Harvest festival begins, and visitors will be assigned a time to see it.
The exhibit is included in the purchase of a Harvest ticket. Those visiting after Harvest who want to see the Infinity Room during normal Newfields hours will be able to reserve a time slot online.•
Check out more A&E content.
Please enable JavaScript to view this content.