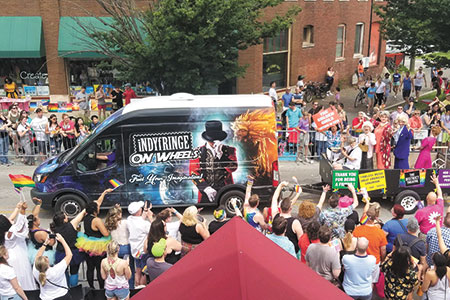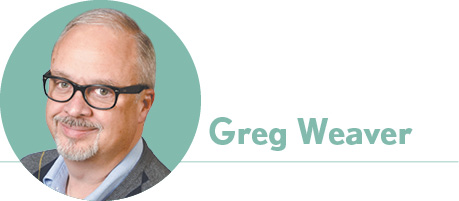 Talk about making the arts and humanities accessible.
IndyFringe, host of the annual August theater festival in Mass Ave, has found a way to literally bring the cultural arts to your doorstep. Or your neighborhood park. Or your rural volunteer fire station.
Fringe on Wheels is a whizzbang customized van complete with a foldout stage, stunning lights and an amazing sound system. Funded with a $49,000 Lilly Endowment grant, the van brings live theater, music, poetry readings and more to locations that might lack exposure to the arts.
"If you can get to the young ones up to age 5 before they go to school and give them some exposure to the arts, it's more likely they will become lifelong enthusiasts or become inquisitive about what's available," said Pauline Moffat, CEO of IndyFringe.
"It's just really the joy of it for everyone, the fact that you can create anything if you put your mind to it. It's the possibilities that the arts open."
In lower-income neighborhoods, access to the arts and other cultural resources also are significantly linked to better health, schooling and security, according to recent research by the University of Pennsylvania's School of Social Policy & Practice.
The study of New York City neighborhoods found the presence of cultural resources is associated with:
◗ A 5% decrease in obesity.
◗ An 18% increase in kids scoring in the top stratum on English and math exams.
◗ An 18% decrease in the serious crime rate.
◗ A 14% decrease in cases of child abuse and neglect.
Moffat envisioned Fringe on Wheels after visiting Adelaide Fringe in her native Australia about four years ago. One of the oldest fringe festivals in the world, the Adelaide caravan takes its acts to smaller towns throughout southern Australia.
With the help of her racecar-designing husband, Lee Dykstra, Moffat came up with a plan to customize a van with everything required to take IndyFringe on the road.
Dykstra's volunteer design work led to a fanciful, colorful van that draws gawkers and waving children whenever it hits the road. In service a few months, the van's biggest public debut came at the Indy Pride Parade, and it already has taken skits, music and comedy to spots around central Indiana.
Kevin Burke, a seasoned performer whose show biz career began as a Barnum & Bailey Circus clown, serves as the Fringe on Wheels ringmaster. The Zionsville native can have the portable stage, lights and sound set up for a show within 30 minutes to an hour.
In August, the organization rolled the van out on Monument Circle and Georgia Street to preview plays featured at IndyFringe, which ran Aug. 15-25 along Massachusetts Avenue.
Next, Moffat said, she'll be working with other organizations such as the Storytelling Arts of Indiana, the Learning Tree and Indiana Humanities to find ways they can use the mobile stage.
My employer, Indiana Humanities, is especially excited about the opportunities Fringe on Wheels could provide to share statewide initiatives such as the women's suffrage centennial and our INseparable programming aimed at exploring Indiana's urban-rural dynamic. We'll also spread the word about this unique platform to our diverse network of partners.
So get ready. Fringe on Wheels likely will roll into a neighborhood near you within the next year.
When it does, take a friend. Take a friend's entire family. Share the joy of the cultural arts. And consider all the possibilities, creativity and community connectedness it could unleash.•
__________
Weaver is the director of communications for Indiana Humanities and a former editor at The Indianapolis Star.
Check out more A&E content.
Please enable JavaScript to view this content.