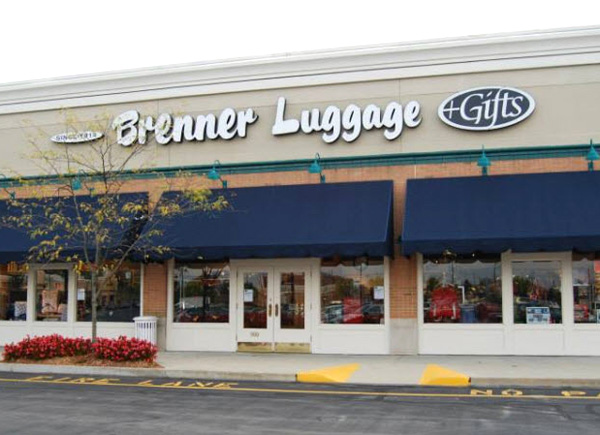 Brenner Luggage, which has sold suitcases, leather bags and other travel paraphernalia in the Indianapolis area since 1914, apparently has closed its last remaining store.
A handwritten sign inside the door of the shop at 8487 Union Chapel Road in Fashion Mall Commons says simply, "Store closed permanently."
Calls to the shop during posted business hours on Monday morning were not answered, and IBJ was unable to immediately reach members of the Brenner family.
In June 2014, Brenner closed its northeast-side location at 8730 Corporation Drive, near Interstate 69 and East 96th Street. Brenner opened the store in 2001 upon closing its downtown location at 111 S. Meridian St.
The company's formal name is Chas. Brenner & Co. Inc., which according to state records was incorporated in 1962 by Charles Brenner, Sigmund L. Brenner and Samuel S. Patterson. But the luggage seller traced its origins to 1914.
Before starting the business, Charles Brenner worked in luggage factories in St. Louis and Cincinnati, according to a history of Brenner Luggage published in 1997. In 1914, Brenner started manufacturing its first products—fiber board suitcases and traveling bags—in a factory at 711 Russell Ave. on the south side of Indianapolis.
In the late 1920s, Brenner acquired a second building, at 401 S. Illinois St., where it made its then-popular leather Gladstone bag, which was sold nationally.
Brenner Luggage continued to manufacture products until 1970. Its operations were consolidated to 111 S. Meridian St. and the company focused on retail. In 1983, it opened a second store in the Fashion Mall at Keystone at the Crossing. That store eventually gave way to the location across 86th Street at Fashion Mall Commons.
Please enable JavaScript to view this content.