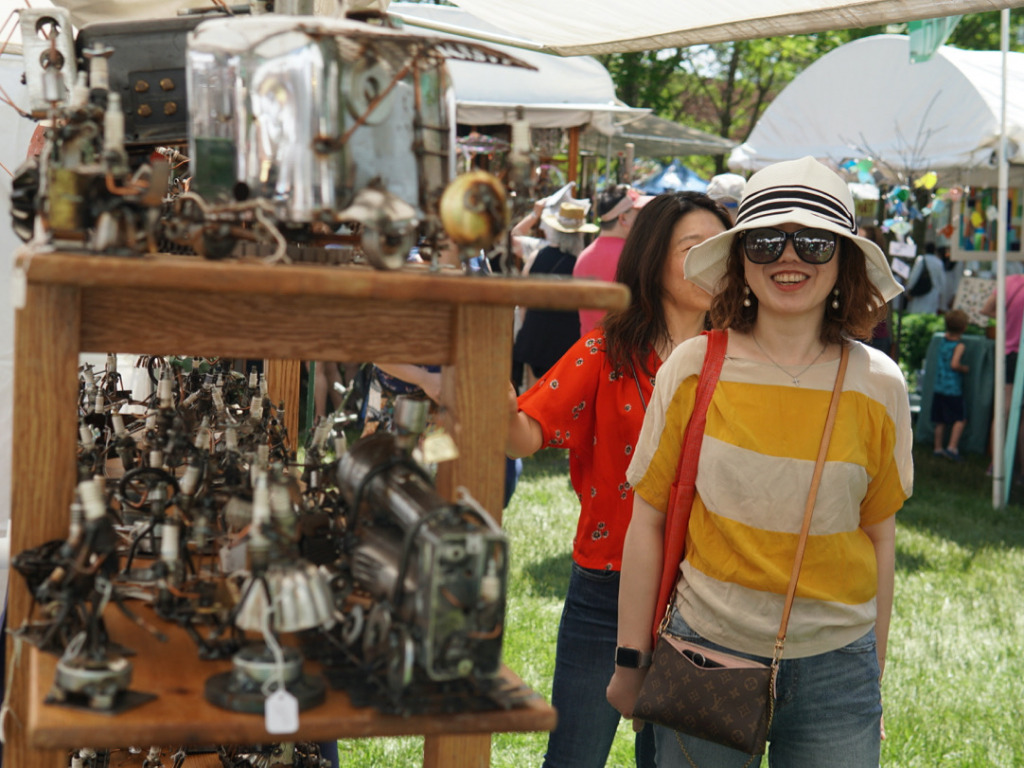 Pandemic delays and cancellations complicated the year-to-year history for many events, and the Broad Ripple Art Fair was no exception.
Initially presented in 1971 in a parking lot bordering the south side of the canal in Broad Ripple Village, the art fair missed an opportunity to celebrate its 50th anniversary last year because of COVID-19. The fair was canceled in 2020, and the Indianapolis Art Center—which hosts the fair as a fundraiser—organized a smaller gathering billed as the Locally Made Festival in 2021.
Thankfully, now is a time to forget about precise calendar-keeping. The Broad Ripple Art Fair will celebrate its 50th anniversary on May 14-15.
Esteemed illustrator KP Singh has displayed and sold his work at every edition—any way you count it—of the Broad Ripple Art Fair.
A professional artist for five decades, Singh participates in three annual art fairs: Broad Ripple, Talbot Street and Penrod. He said he's eager to return to these events in normal formats in 2022.
"We were missing much more than the display of artwork," he said. "It is a gathering place for patrons and a gathering place for artists. Over that half of a century at the Broad Ripple Art Fair, we have sold our artwork and talked to families and friends who have three generations involved in acquiring our work.
"It's really not all about artwork. It's all about where they hung it, what they did with it. They took it to Germany; they took it to South Africa. There is a great deal of interaction."
Singh grew up in India, and he has lived in Indianapolis since 1967. Before focusing on "art, culture and spirit" depicted in the buildings he illustrates, Singh worked as an architect planner for the city of Indianapolis.
He considers his drawings of Soldiers & Sailors Monument, Scottish Rite Cathedral and Lafayette's Tippecanoe County Courthouse as a way to help Indiana residents connect with what came before. Singh said it's impossible to separate architecture from our sense of societal heritage and cultural heritage.
"My effort is to be part of Indianapolis moving forward as a place of distinction and a place where arts and culture flourish and people enjoy," Singh said. "I am one of the close witnesses to that, as an observer, as a thinker and as a person who has been working full time on this since March 1972."
People have told Singh he's an artistic successor to Union City native Frederick Polley, who highlighted hundreds of Indiana landmarks through illustration and text in the pages of The Indianapolis Star from 1924 to 1947.
Conceding that he's not enamored with modern "boxes of glass and concrete," Singh said he continues to find inspiration in older buildings.
"This is your culture, your civilization, your history and the work of your pioneers," he said. "There's a lot we can learn from it, and there are a lot of reasons to preserve it and integrate it—and re-adapt it, if needed—into the future fabric of our towns, cities and neighborhoods."
Singh, author of the 2003 book "The Art and Spirit of KP Singh: Selected Drawings and Writings," is one of 150 artists participating in this year's Broad Ripple Art Fair. The live music portion of the fair includes performances by Rob Dixon, the Blue Side and the Bashiri Asad Band.
Tickets, $25 or $20 if purchased in advance, are available at indyartcenter.org.
Please enable JavaScript to view this content.