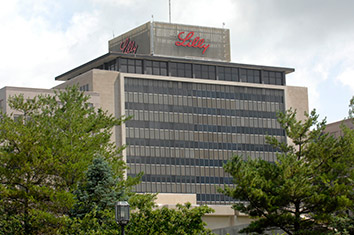 One year ago, in the wake of the attack on the U.S. Capitol, Indianapolis-based Eli Lilly and Co. suspended political contributions to four Indiana members of Congress who voted against certifying the Electoral College results.
"While we support candidates from both parties with a variety of political views, we expect any candidate we support to demonstrate respect for people and respect for our democratic process and institutions," Lilly said in a written statement on Jan. 13.
But since then, the pharmaceutical giant has quietly resumed political contributions to 14 Republican lawmakers who voted against certifying the 2020 election results, according to a report issued Monday by watchdog group Accountable.US.
That includes three of the four Indiana members of Congress–Reps. Jackie Walorski, Jim Baird and Greg Pence–to whom Lilly had suspended contributions last year. The fourth, Rep. Jim Banks, did not receive subsequent contributions from Lilly, according to the report.
Lilly, one of Indiana's largest and most powerful companies, did not say why it had reversed it stance.
"LillyPAC supports candidates across the political spectrum who understand the value of a vibrant pharmaceutical ecosystem to address unmet patient needs," Lilly said Monday in an email to IBJ. "Contributions from LillyPAC will continue to be in line with Lilly's purpose to make life better."
Last year, however, Lilly strongly condemned the actions of the rioters and those who supported them, along with those who voted against certifying the election of Joe Biden as president.
"This certainly covers anyone who promoted violence or sedition that contributed to the appalling events on January 6th or who continue to support violence to disrupt the peaceful transfer of power our democracy is founded on," Lilly said last year. "As such, LillyPAC will suspend political giving to those who voted against certification of the 2020 election results."
The drugmaker gave $5,000 to Walorksi  in July and $2,500 each to Baird and Pence in October and November, respectively, the report said. In all, Lilly gave $32,500 to lawmakers who voted against certifying the Electoral College results.
Twenty corporations and trade groups gave a combined $8 million last year to Republican lawmakers who objected to the election results, the report said. The donors include General Motors, ExxonMobil, Boeing, Duke Energy, FedEx, UPS, the American Bankers Association, the National Automobile Dealers Association and the National Cattlemen's Beef Association. Lilly is the only Indianapolis-based organization listed in the report.
"A year has passed since the deadly insurrection on the U.S. Capitol that spurred a flurry of corporate promises to defend democracy," the report said. "For many of the biggest companies and trade groups in the country, those promises were broken when they funneled millions of dollars to election objectors in Congress."
The Republican lawmakers to whom Lilly gave political donations, in addition to those from Indiana, include House Republican Leader Kevin McCarthy of California and lawmakers from North Carolina, Pennsylvania, Georgia, Oklahoma, Nebraska, Missouri, Alabama, Florida and Texas.
The report also said Lilly also donated $4,300 to Georgia Gov. Brian Kemp, who signed a bill that would make mail-in voting more difficult. Executives from several dozen companies, including Lilly, had publicly opposed the Georgia law.
Please enable JavaScript to view this content.