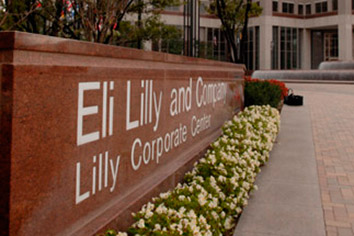 Eli Lilly and Co. has suspended political contributions to four Indiana members of Congress who voted last week against certifying the Electoral College results.
Several other Indiana companies also say they are suspending contributions to all candidates or are taking a close look at the matter.
Lilly confirmed Wednesday it put the brakes on contributions to any "sitting members who voted against certification."
Rep. Jim Banks, Rep. Jackie Walorski, Rep. Jim Baird and Rep. Greg Pence—all Indiana Republicans—voted against certifying the results in one or more states.
It was unclear how much the Indianapolis-based drugmaker had donated to each candidate in recent years.
"Any candidate we support through the LillyPAC must have a record that is consistent with Lilly values," Lilly said in a written statement. "While we support candidates from both parties with a variety of political views, we expect any candidate we support to demonstrate respect for people and respect for our democratic process and institutions."
The statement continued: "This certainly covers anyone who promoted violence or sedition that contributed to the appalling events on January 6th or who continues to support violence to disrupt the peaceful transfer of power our democracy is founded upon. As such, LillyPAC will suspend political giving to those who voted against certification of the 2020 election results."
Other companies, including several manufacturers and utilities, echoed Lilly's comments.
Duke Energy, the largest provider of electricity in Indiana, said it was "shocked and dismayed" by the events at the U.S. Capitol last week and was taking a pause on all federal political contributions for 30 days.
"During this time, we are evaluating Duke Energy-supported candidates' values and actions to ensure they align to our values and goals," said the Plainfield-based subsidiary of North Carolina-based Duke Energy, in a written statement. "The way members of Congress conducted themselves in this critical time will be an important consideration in future support."
But some other utilities said they don't contribute to federal candidates. Indianapolis Power & Light Co. said it has a state-only political action committee and does not donate to federal candidates. Citizens Energy said does not have a political action committee and does not make donations to any political candidates.
Elanco Animal Health, based in Greenfield, said in an email to IBJ it has paused all contributions to political candidates "so we can assess the best path forward, aligned to our values of integrity, respect and excellence."
Engine manufacturer Cummins Corp. said it is not currently contributing funds. "The Cummins PAC has a robust evaluation process for each elected official to which it contributes, including whether or not the individual reflects Cummins' core values," the company said in a statement. "The events of last week will absolutely be part of that evaluation process going forward as the PAC board determines future contributions."
Please enable JavaScript to view this content.