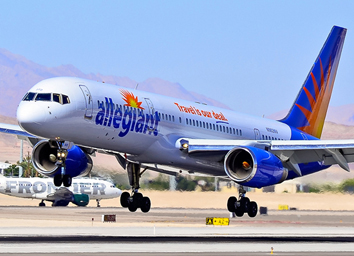 Just in time for chilly weather, low-cost carrier Allegiant Air plans to launch nonstop flights between Indianapolis and the desert resort city of Palm Springs, California, on Nov. 18.
The new route between Indianapolis International Airport and Palm Springs International Airport is part of a 22-route expansion for Allegiant announced on Tuesday.
The airline will run the seasonal Indy-Palm Springs route twice weekly, according to Hilarie Grey, Allegiant's managing director of corporate communications. The current plan is for service to cease in April.
"A hallmark of Allegiant's service is to connect travelers to warmer destinations where they can enjoy a variety of outdoor leisure activities," said Drew Wells, Allegiant's senior vice president of revenue and network planning. "And we've continued that tradition with this expansion by giving customers more affordable, nonstop options to visit Florida, Arizona and California during the fall and winter seasons."
The airline said Tuesday that it was offering promotional fares for the Palm Springs flight as low as $59 for one-way travel.
Palm Springs is located in Southern California's Colorado Desert, and is known for hot springs, ritzy hotels, golf courses and spas.
Las Vegas-based Allegiant began serving Indianapolis in 2015 and opened a crew base here in 2018. It typically has focused on warm-weather vacation destinations, although it added a nonstop flight between Indianapolis and Boston In May.
Since air travel cratered at the beginning of the pandemic, airlines have been rebuilding their routes and, in some cases, adding destinations.
In recent months, airlines at the Indianapolis airport have added nonstop flights to Hilton Head, South Carolina; Portland, Maine; and a one-week-only flight to Rapid City, South Dakota, for the Sturgis motorcycle rally this month.
Indianapolis International Airport officials expect to have about 50 nonstop destinations by this fall.
Please enable JavaScript to view this content.