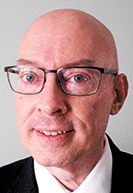 Age: 51
Hometown: Killeen, Texas
Residence: Lawrence
Family: 15-year-old daughter, 10-year-old son
Education: bachelor's in industrial engineering from Texas Tech
Political experience: ran as a Democrat for the 5th District in 2014 and 2016
Career: highway engineer for the Indiana Department of Transportation, worked for the Indiana Department of Environmental Management for 14 years
Why he's running: It has been an ambition of mine since I was a teenager to become a member of the U.S. House.
Top priority: restoring our economy to where it was before the coronavirus crisis hit
What he's streaming: "Dark Matter" on Netflix
Q&A
What do you think needs to be done to improve access to and the affordability of health care?
I support repealing Obamacare and replacing it with a free-market-based health care system where patients have impartial information about quality and affordability.
We also need legislation that would protect seniors from financial hardship by requiring price controls or rebates for drug price increases that exceed the rate of inflation, lowering the annual out-of-pocket caps for Medicare Part D patients and allowing the re-importation of drugs that are found to be available cheaper outside of the United States.
What should be done to address the massive amount of student debt in this country and make college more affordable?
We need to repeal most of the Student Loan Reform Act of 1993. That Clinton-era law was enacted to absolve the government's liability as a guarantor from increasing student loan defaults. Since the government no longer guaranteed the loans, Democrats also deregulated interest rates, tuition rates and academic quality standards. … [T]hose protections needed to be left in place as conditions for banks that want to make loans that aren't dischargeable due to bankruptcy. Students have been exploited for decades as a result.
What is your position on trade and tariffs?
I support free trade when it is accompanied by fair trade. Fair trade doesn't always exist with some trading partners. China, for example, has long been an example of a nation engaged in unfair trade practices.
What should be done to address climate change?
When people hear of "climate change," they usually think of the phrase "greenhouse gases." Few people actually know what greenhouse gases are. The four most common greenhouse gases are water vapor, carbon dioxide, methane and nitrous oxide.
Carbon dioxide and nitrous oxide can be reduced by burning fewer fossil fuels. However, the reduction won't be significant enough to mitigate the climate change caused by an ever-increasing human and animal population.
Please enable JavaScript to view this content.