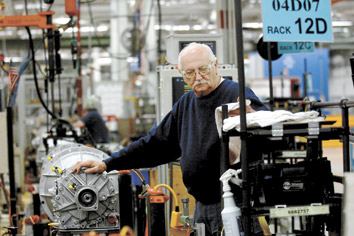 Indianapolis-based Allison Transmission Holdings Inc. plans to terminate 272 hourly employees at two of its Indianapolis facilities effective Monday.
News of the cutbacks came Wednesday as the manufacturer announced that it has landed a $162 million contract to supply the U.S. Army with transmissions for its Abrams tanks. The contract also includes upgrades, sustainment kits and service support.
In a letter to the Indiana Department of Workforce Development, Allison said the job cuts will come from its main campus at One Allison Way on the city's west side; and from the facility it calls Plant 17 at 5902 Decatur Blvd. in the AmeriPlex industrial park near Indianapolis International Airport.
The cuts represent just more than 10% of the combined workforce of 2,673 at the two locations. Allison has about 2,900 employees at all of its sites, which include seven facilities in Indianapolis along with sites in Auburn Hills, Michigan; Lewisburg, Tennessee; Hungary; and India.
"This layoff is a result of the unforeseen business circumstances that have arisen from the worldwide COVID-19 pandemic, along with the resulting sudden and unexpected decline in customer orders and supply chain disruptions in certain operations," Allison said in its letter to the state. The letter was dated April 23 and was posted to the DWD's website Wednesday afternoon.
On March 30, Allison suspended production at some of its Indianapolis facilities, citing coronavirus-related supply chain disruptions and weaker customer demand. Employees affected by this move were put on temporary layoff status.
In its letter to the DWD, Allison described those as "rolling temporary layoffs" of varying duration which had affected 443 hourly employees as of April 26.
Some of the permanent cuts are coming from that group of 443, Allison said, but some are not.
Regarding the Army contract, the Army awarded Allison a $68.6 million contract March 25. Allison said additions to that contract were finalized last week, bringing the contract award to $162 million.
The company said it made its first deliveries in March and will continue to do so through December 2021. All the work to fulfill the contract will take place in Indianapolis.
Please enable JavaScript to view this content.