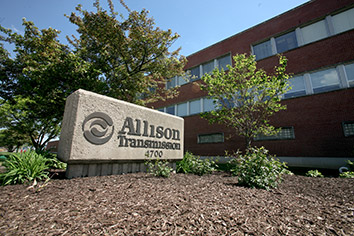 Indianapolis-based Allison Transmission Holdings Inc. on Wednesday reported lower fourth quarter revenue and earnings than a year ago, but the results beat Wall Street expectations.
The transmission maker realized a profit of $107 million, or 90 cents per share, down from $147 million, or $1.14 per share, in the same quarter of 2018.
Earnings, adjusted for non-recurring gains, came to 85 cents per diluted share.
The results topped the average estimate of seven analysts surveyed by Zacks Investment Research, who predicted adjusted earnings of 72 cents per share.
Allison brought in  revenue of $617 million in the period, beating the forecast of $594.7 million by five analysts surveyed by Zacks. The company reported revenue of $647 million in the same quarter of 2018.
The company said North America on-highway sales rose 9%, to $330 million, but were down in most other sectors.
For the year, the company turned a profit of $604 million, or $4.91 per share, down from $639 million, or $4.78 per share, in 2018. Revenue was $2.7 billion, compared with $2.71 billion the previous year.
Allison said it expects full-year revenue in the range of $2.38 billion to $2.48 billion, with profit in the range of $425 million to $475 million.
The company's shares have declined 7.5% since the beginning of the year. On Thursday morning, shares were trading at $44.25, down about 1% from Wednesday's close.
Please enable JavaScript to view this content.