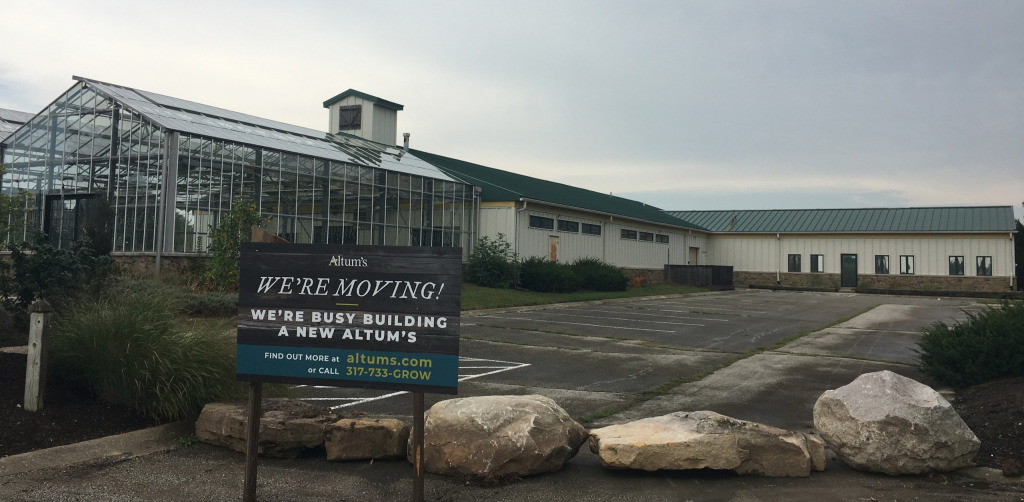 Altum's Garden Center is moving from its 23-acre west-Carmel campus to a temporary roadside stand on Zionsville's north side, where it might eventually build new permanent operations.
Dana Altum, the second-generation owner of Altum's, ended the business' 25-year stint at 11335 N. Michigan Road on July 19 and is opening a pop-up garden center on a portion of the Finley Creek Vineyards Event Center's property at 795 S. U.S. 421 starting next week. The stand will be open from Sept. 1 to Dec. 24 as Altum works to establish more-permanent operations there by April. She envisions ultimately spending $500,000 to open a 7,500-square-foot location that's focused more on online sales.
"We knew the space was too big for us," Altum said. "The cost of being on Michigan Road for a seasonal business didn't really work."
Altum said her father, Bob Altum, first opened the garden center on a two-acre property at 9900 N. Michigan Road in 1981. The business grew there until Bob Altum visited garden centers as he toured England and realized that the growing Indianapolis suburbs might support something bigger.
In 1996, Bob Altum purchased the 23-acre property north of 106th Street and North Michigan Road and relocated the business there. Until July, Altum's used a roughly 5-acre portion of the site to house a conservatory, cafe and 20,000 square feet of covered shopping and workshop space. Outside, there's another 20,000 square feet of outdoor sales and display gardens, as well as a playground.
The family considered moving closer to Michigan Road and 146th Street in 2009 after agreeing to sell its property to Kroger in 2009, but that deal fell through two years later. The Altums wound up selling the property in 2012, and it's now owned by Fehsenfeld Land Holdings LLC.
"It was just becoming more strip mall-esque, and here we are, this green patch in the middle of it," Altum said. "We were able to move up on Michigan Road and find a temporary space near Finley Creek in the hopes that it will be a permanent move. That's what our customers are looking for, a bit of nature up there."
The major sales-floor reduction reflects a change in customer behavior, Altum said. She foresees the temporary setup and eventual new, permanent location as more of a showroom for the plants and other garden goods now available online.
"Prior to COVID, even, we were really ramping up our online website sales," Altum said. "That was the way things were turning."
The plan is to construct a 2,500-square-foot showroom with space for customers to peruse houseplants, pottery, fertilizer and garden accessories as they consult with the staff. Outside, there will be a 5,000-square-foot, fabric-covered enclosed area for displays.
"It's not going to be a typical greenhouse. Our intention is to do something different," Altum said. "It's a more multi-use facility that still allows us to have plants in there. We think it's a better use of the structure than just a straight-up greenhouse."
Altum is still working on site plans for the permanent location, but she's been given the green light by the town to operate the temporary garden stand. Even though the changes may be significant, Altum said she'll retain her same staff of seven employees, and she's excited for her son, Kirk Gibson, to act as a third-generation part owner.
Please enable JavaScript to view this content.