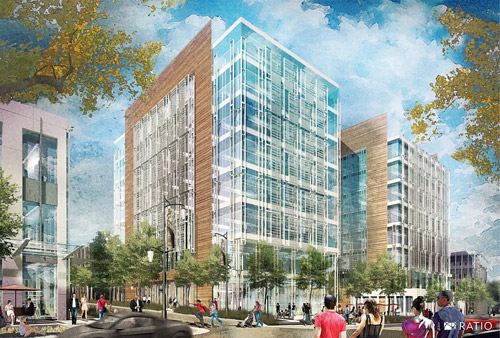 Ambrose Property Group told IBJ on Friday that it is backing out of its plans to redevelop the 103-acre former GM stamping plant site and will seek to sell the property located on the western edge of downtown Indianapolis.
Ambrose had announced plans last year for a $1.4 billion, mixed-use development called Waterside on the site—and said construction was to start this year. The project was to include 1,350 residential units, 620 hotel rooms, 2.75 million square feet of office space and 100,000 square feet of retail space.
But on Friday, Ambrose told IBJ in a statement that it plans to reposition its business to focus on e-commerce and industrial development and away from mixed-use and office projects, including Waterside.
The company has chosen real estate firm JLL to begin the process to sell the Waterside site.
Ambrose told Mayor Joe Hogsett's administration about its decision on Thursday night.
The mayor's chief of staff, Thomas Cook, called the decision "disappointing." But he said the move "does not dampen our optimism and commitment to this site and the surrounding neighborhoods. We intend to use all available tools to ensure that the future of this parcel will live up to the years of planning that has occurred and the ongoing White River Vision Plan."
Ambrose sent an email Friday morning with the subject line "A letter to the Indianapolis community." In it, Ambrose CEO Aasif Bade said, "The opportunities for this site are so much bigger than Ambrose."
Ambrose agreed to purchase the GM stamping plant property from the RACER Trust in May 2017, after the city and RACER—which is charged with finding new uses for former GM properties—chose it from among four bidders for the property.
The Ambrose deal—in which it paid $3 million for five parcels—closed in April 2018.
Bruce Rasher, Michigan-based RACER's development manager, said at the time the group picked Ambrose that, "What Ambrose proposed to RACER came the closest and, in fact, would achieve the city's vision, so they were a clear choice for RACER."
On Friday, RACER issued a statement saying it was disappointed but it was ready to help the city of Indianapolis find a new owner.
Ambrose initially planned to spend $550 million on its development but expanded its plans substantially last year. It did so after discussions with a number of neighborhood organizations, the city and interested not-for-profits.
"We've operated with the mindset that the potential of the site is much greater when we surround ourselves with the best people and organizations—like The Valley neighborhood, Central Indiana Community Foundation and so many others," Bade wrote Friday in his note to the community. "Together with these groups, we've advanced important conversations about placemaking, designing for equity and inclusion, and developing with the community rather than to the community."
Bade said Ambrose is "proud of the work we've done together" but said it would not continue to be part of the development's future.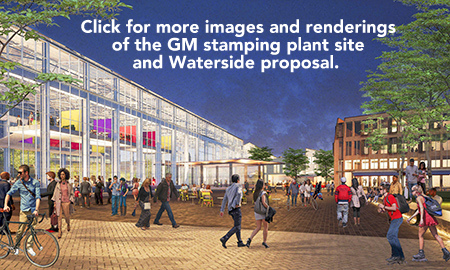 "The site, located within an Opportunity Zone, is now poised for success and we expect significant interest from developers locally and nationally," Bade said. "Once a new owner is identified, we hope they will be warmly welcomed by the community and be afforded consideration for necessary incentives from the city and state—as we have—that align with a project of this size and scope."
Lisa Laflin, executive director of the West Indianapolis Development Corp., called the Waterside news disappointing but said it's too early to be pessimistic about the site's future. "The sky's not falling yet, and we're hopeful that the sky won't be falling."
Laflin said Ambrose called her early Friday, shortly before it made its public announcement, to share the news.
Laflin said she's optimistic that someone else will move forward with a plan similar to Waterside, though she wonders if a new developer will be as easy to work with as Ambrose has been.
"Ambrose, we thought, really did a good job in engaging the neighborhood," Laflin said. "There's concern as to whether or not a new owner is going to be as community-conscious."
Isaac Bamgbose, who just a few months ago was tabbed to lead the Waterside development after being hired from Hendricks Commercial's Bottleworks District project, said he left Ambrose at the beginning of September.
"I think visions didn't align—as it related to where we were going—so we just kind of came to an understanding about that and left it on amicable terms," Bamgbose said.
He said he wasn't aware of Ambrose's plans to abandon the project altogether when he departed the company.
Bamgbose said he couldn't yet comment on his own plans moving forward.
Please enable JavaScript to view this content.