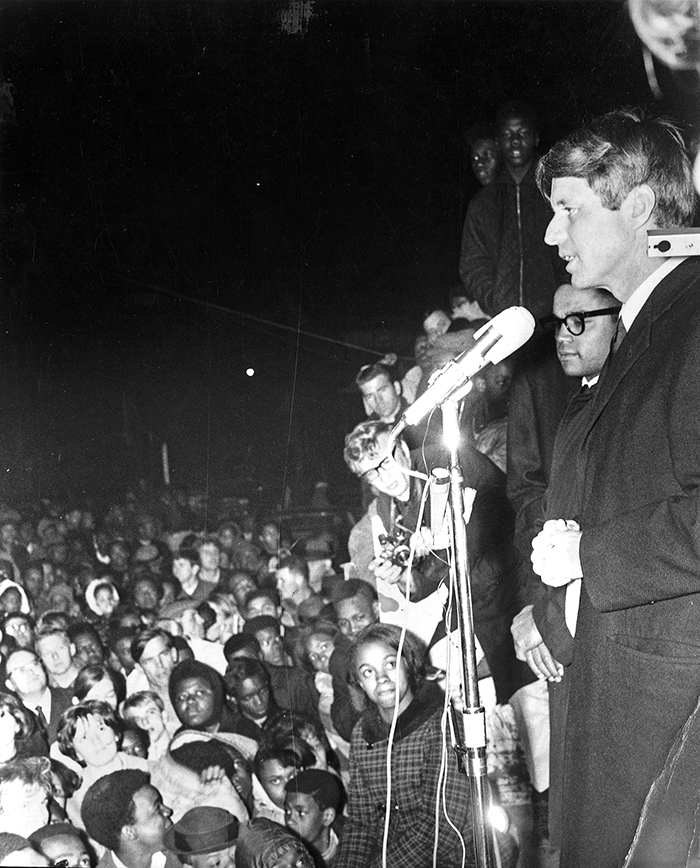 While campaigning in Indianapolis on April 4, 1968, for the Democratic nomination for president, U.S. Sen. Robert F. Kennedy of New York, broke the news of Martin Luther King Jr.'s assassination. He ignored advice to cancel his speech over concerns that violence might break out and instead spoke to a crowd at an outdoor rally at East 17th and Broadway streets. He asked those present to return peacefully to their homes and to pray for King's family and the country, saying, "What we need in the United States is not division; what we need in the United States is not hatred; what we need in the United States is not violence or lawlessness; but love and wisdom, and compassion toward one another, and a feeling of justice toward those who still suffer within our country, whether they be white or they be black." While riots broke out in several major American cities following King's death, Indianapolis remained peaceful. Today, the Landmark for Peace Memorial in the city's Dr. Martin Luther King Jr. Park—at 17th and Broadway streets—honors Kennedy and King.
Sources: Indiana Historical Society, JFKlibrary.org and Historicindianapolis.com
Credit: This photo is courtesy of the Indiana Historical Society and is part of the Indianapolis Recorder Collection. More images are available at images.indianahistory.org.
Please enable JavaScript to view this content.