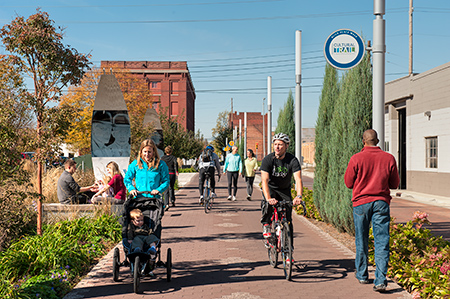 The Indianapolis Cultural Trail has received a $1 million grant from health insurer Anthem Inc. to support its programs and maintenance, the two organizations announced Wednesday afternoon.
Part of the money will be used for counters that will help track how many people are using the trail each year, and how they are using it—by foot, bicycle or other means.
The headquarters of Anthem is right along the southeast portion of the trail, at 220 Virginia Avenue. About 2,700 people work at the headquarters and can use the trail to walk downtown or to the other cultural districts connected by the eight-mile pathway.
"As Indianapolis has grown, especially in this quadrant of downtown, Anthem has grown with it," said John Gallina, Anthem's chief financial officer.
The donation will help the Indianapolis Cultural Trail Inc.'s financial position. The not-for-profit had total revenue of $839,520, in 2017, mostly through contributions and program services, including Pacers Bikeshare, according to its latest available Form 990 tax return.
Total expenses were $1.27 million, leaving the organization with an annual deficit of $434,853 that year.
"Indianapolis Cultural Trail Inc. ensures the Cultural Trail is a world class public space and beautiful experience that is always accessible," said Karen Haley, the organization's executive director.
The idea for the trail was conceived in 2001, approved in 2005 and was developed from 2007 to 2012 at a construction cost of about $57 million. City hospitality officials say the trail is a drawing card for visitors.
Please enable JavaScript to view this content.