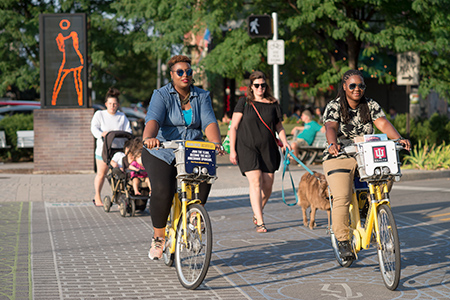 var win = null; function NewWindow(mypage,myname,w,h,scroll){ LeftPosition = (screen.width) ? (screen.width-w)/2 : 0; TopPosition = (screen.height) ? (screen.height-h)/2 : 0; settings = 'height='+h+',width='+w+',top='+TopPosition+',left='+LeftPosition+',scrollbars='+scroll+',resizable' win = window.open(mypage,myname,settings) }
Indianapolis' Cultural Trail has been called "a linear welcome mat," "a directional sign" and "a marketer's dream."
Another descriptor attached to the eight-mile trail that winds through downtown and past local works of art and cultural landmarks and on into Fountain Square?
"Surprising."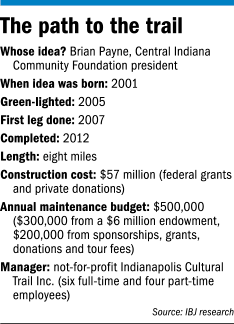 While the trail, whose last section opened in May 2012, was supposed to be a nice city amenity and promote a healthy lifestyle among downtown residents and visitors, few imagined how bustling the brick-paved corridor for non-motorized traffic would become.
And almost no one imagined it would become one of the city's top drawing cards for meeting and convention planners.
"I thought it would be successful given my background with trails," said local residential and commercial developer Craig Von Deylen, who served on the city's Greenways Committee in the 1990s. "But the impact, and the breadth of that impact, has exceeded even what I thought it would be. The number of visitors—people from out of town—the trail attracts is staggering. And it's growing."
In 2014, the Indiana University Public Policy Institute placed counters on the Cultural Trail that estimated 1 million people used it that year. 
Von Deylen, president of local development firm Deylen, which has several properties in the Fletcher Place and Fountain Square neighborhoods just southeast of downtown, thinks the number is now much higher. Several hotel managers with properties along the trail told IBJ it will see more than 1.5 million users this year. If that's true, it means, on average, more than 4,100 people use the trail daily.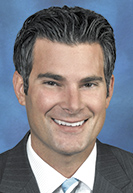 Gahl
"We see people on the trail at all hours," said Visit Indy Vice President Chris Gahl. "At 9 or 10 o'clock on a warm night, the trail can be pretty crowded."
Convention organizers ask about the trail continually, Visit Indy officials said.
"Of course, meeting planners are keenly interested in our compact downtown and what we offer from a hotel, meeting space, and restaurant and catering standpoint. But right along with that, they want to know about activities and attractions we offer, and the Cultural Trail has quickly climbed to the top end of the list of attractions they're interested in," Gahl said.
With good reason.
"You can't look at this as just a glorified sidewalk," said Debbie Locklear, president of locally based Meeting Services Unlimited Inc., which represents several national clients. "It's a linear park, and from a meeting planner's standpoint, there's just so much you can do with it from a social aspect and to build camaraderie. … Many groups have some type of walk or activity for early risers, and the Cultural Trail is tailor-made for that.
"From a tourism and hospitality perspective, the Cultural Trail is a marketer's dream," she said.
Also, meeting planners love people to tweet about their show or convention. "It's one of the best forms of advertising for the convention," Locklear said. "And we've found, [convention attendees] who use the trail often tweet it out."
Gahl said the trail speaks to the city's efforts to brand itself as walkable and easy to navigate. "The trail is included in every single piece of our marketing material."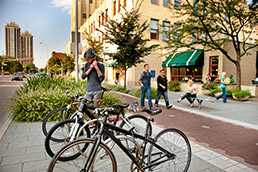 One cycling-related organization—PeopleForBikes—will hold its convention in Indianapolis next May, in part because of the trail. (Photo courtesy of Visit Indy)
A handful of conventions have even cited the Cultural Trail as their primary factor for looking at Indianapolis.
One of those—PeopleForBikes—will hold its convention here next May. Indianapolis narrowly missed out on the massive Interbike International Expo, which has been held for two decades in Las Vegas but will now move to Reno, Nevada.
Return on investment
The trail's draw has been so great, and traffic so heavy, that the 2014 Public Policy Institute study found property assessments within a block of the trail had increased 148 percent since 2008, or a total of $1 billion.
While the trail, which cost $57 million to design and construct, and $500,000 annually to maintain, now seems universally embraced, it wasn't always that way.
More than a few local businesses and politicians initially resisted the idea of encroaching on motor-vehicle street space to create a path for walkers, joggers and cyclists. Some hotels worried it would hurt their curbside valet service.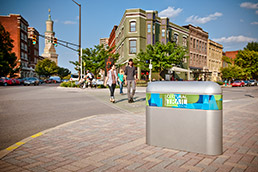 Signs, distinctive paving and designs at intersections mark the Cultural Trail along its eight-mile path through downtown business and residential areas. (Photo courtesy of Visit Indy)
So, even though Central Indiana Community Foundation President Brian Payne hatched the idea in 2001, then-Mayor Bart Peterson didn't greenlight it until 2005. The first half-mile was built in 2007 and the last mile completed five years later.
There were many questions about funding, not only for construction but ongoing maintenance.
A U.S. Department of Transportation grant contributed $35.5 million, and $27.5 million was raised from private sources, including $15 million from The Eugene and Marilyn Glick Family Foundation.
Of the $63 million total, $6 million was set aside in an endowment, which pays out 5 percent—or $300,000—annually for maintenance and improvements.
The not-for-profit Indianapolis Cultural Trail Inc., incorporated in 2008 to oversee operations and maintenance, has an annual $1 million budget.
About half of that goes to the Indiana Pacers Bikeshare Program, which is self-sustaining through bike rental fees, annual memberships, grants and sponsorships. A Federal Highway Administration grant pays for the bicycles.
The Bikeshare program began in 2014 with funding from the Herb Simon Family Foundation. With 29 stations and 251 bicycles, it has increased the use and profile of the Cultural Trail.
The other half of the trail's budget is spent on maintenance.
Snow and ice removal is a big part of the cost, Cultural Trail officials said. Other expenses include monitoring and maintaining lighting, cleaning up litter and oil spills—from auto traffic on adjacent streets—surface repairs, landscaping and artwork.
So far, Indianapolis Cultural Trail Inc. has been able to supplement the endowment's $300,000 maintenance contribution each year with $200,000 in donations, grants and fees for tours.
Safety first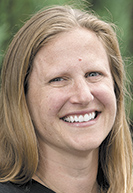 Haley
A big part of the trail's success is that it's free and open 24/7, and people feel safe, said Indianapolis Cultural Trail Inc. Executive Director Karen Haley.
The IU Public Policy study found 95 percent of users feel safe on the trail at all times.
"The Cultural Trail gives people a unique entry into our community and our culture," Haley said. "It's a linear welcome mat."
Indianapolis Cultural Trail Inc. has six full-time and four part-time employees. Haley said there isn't a single day that she or one of her employees isn't on the trail for an extended period making sure things are just right.
About 4,500 volunteers also signed up to help maintain the trail. Various visitor groups—including dozens of members of FFA chapters who visit each year for the National FFA Convention—also volunteer to help maintain the trail.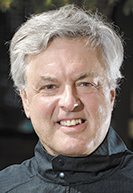 Blumenthal
"If people don't have a great experience on the trail, they won't use it," Haley said. "So we spend a lot of time maintaining it."
The trail has a unique appeal, said Tim Blumenthal, president of PeopleForBikes, a Boulder, Colorado-based advocacy group.
"It's highly designed to be part of an urban area, it's beautifully landscaped and maintained, it incorporates public art and helps visitors explore the city and its cultural neighborhoods in a way that would be impossible otherwise," said Blumenthal, who has ridden the trail on a number of visits here.
He was so impressed that his organization last month announced it is holding its annual conference, which attracts more than 700 attendees, in Indianapolis in May.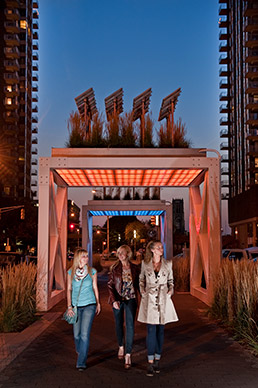 The trail is lined with public art, including "Prairie Modules 1 & 2," which are structures located on North Street between New Jersey and Alabama streets. (Photo courtesy of Vist Indy)
"I wanted people involved in the cycling world to see what they're doing in Indianapolis," Blumenthal said. "The Cultural Trail is an inspiration of what can be done. There are already more than 20 cities that want to copy it. And I think there are going to be a lot more than that."
A sampling of the cities making the "two, three or four calls every week" to Cultural Trail officials include Portland, Oregon; Cleveland; Phoenix; Miami and Fort Lauderdale, Florida; Louisville and Lexington, Kentucky; Raleigh, North Carolina; Denver; San Francisco; Dallas; Richmond, Virginia; Calgary and Toronto in Canada; Cologne, Germany; and Paris.
The trail's success has led Payne to serve as keynote speaker at this year's PeopleForBikes convention in Madison, Wisconsin, and at the Interbike expo, where the keynote speaker is often a cycling-industry titan.
Media boost
The Cultural Trail's—and Payne's—profile skyrocketed when a number of travel and bicycle special-interest publications began touting the trail even before its completion.
That crystalized during a 2012 Society of American Travel Writers gathering here.
Visit Indy and Cultural Trail officials put out a call for anyone interested in a group ride on the trail. More than 80 travel writers turned up at Cultural Trail headquarters at Capitol Avenue and Walnut Street and mounted the Pacers-branded, bright-yellow bikeshare bikes.
As the articles that group wrote afterward began to appear in various publications, the buzz grew. Then the New York Times weighed in with two articles. One came in an early 2014 travel section that touted Indianapolis as one of 52 must-see destinations around the world. The reason, the Times raved, was the Cultural Trail.
"You can't buy publicity like that," Gahl said. "During the early phases of conversations with [then-Mayor] Bart Peterson, Brian Payne and city officials, we realized what the Cultural Trail would mean from the standpoint of attracting visitors. But The New York Times article blew the lid off of that."
One of the busiest periods for the Cultural Trail and Pacers Bikeshare Program is during the annual Gen Con gaming show in August. In addition, The American Institute of Architects, American College of Sports Medicine, StormCom, CEOs for Cities and U.S. Conference of Mayors are just a few of the groups that have hosted group rides along the trail during their conventions.
Some even saw this year's earlier loss in the bid to host the Interbike International Expo—which draws nearly 25,000 attendees and has an eight-figure economic impact—as a win of sorts, a sign of good things to come.
"Without the Cultural Trail, Indianapolis isn't even in the conversation," Blumenthal said. "But when it comes to the Cultural Trail, there are going to be a lot more wins than losses."
And, he added, the trail shows off the city in ways that otherwise wouldn't be possible.
"You can drive around a city all day long, and you won't get the intimate view of the city—to really get to know its personality and culture—like you would by walking or cycling the Cultural Trail. Every time I ride it, I notice a new development. It shows this really is a city on the rise."
Von Deylen called the trail "a directional sign to some of the city's best and brightest highlights."
It has drawn comparisons to some of the most well-known bicycle and pedestrian paths in the nation, Blumenthal said, including High Line in New York, the BeltLine in Atlanta, and the 606 in Chicago.
But there's an important distinction between Indianapolis' Cultural Trail and those urban trails.
"We built this trail where people wanted to go, not just where there was a rail corridor or other available land," Payne said. "It was designed to be an amenity you wanted to be on whether you knew where you were going or not. The journey along the trail is as inspiring as any of the destinations."
"There are a lot of other multi-use paths that go along the edges of cities," Blumenthal said. "And a few others that even go through cities. But none of those do as good a job of connecting neighborhoods and telling the historical and cultural story of the community as the trail you have in Indianapolis."•
Please enable JavaScript to view this content.