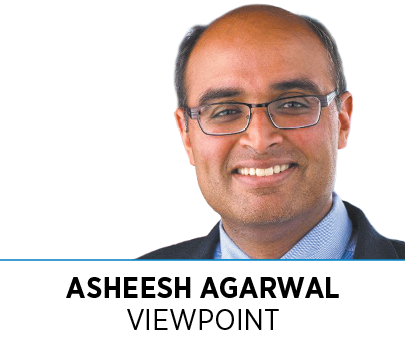 Raise your hand if you want the federal government to control even more of the economy.
As Hoosiers struggle with the rising cost of food, gas and everything else, Congress is considering anti-innovation bills (including Senate bills 2710 and 2992) that would lead to even higher prices for many basic goods and services. Even worse, these bills could encourage the government to come down on successful companies across the economy, including in agriculture and health care—industries critical to Indiana's future.
The pending bills would restrict the ability of America's most innovative tech companies to give consumers what they want. Driven by frustration with "Big Tech," the bills bar these companies from selling inexpensive, private-label products and from bundling services, such as free shipping, in ways that help consumers. The bills also require these companies to share sensitive data with Chinese and other foreign competitors, provisions that raise security concerns and reduce the incentives to innovate and invest.
Moreover, under the bills, federal regulators would receive enormous discretion to determine whether, when and how companies can compete. Henceforth, the government would decide whether the law extends to a particular tech company, when the company can update its security software, and how it ranks websites in search results. The same folks that manage our energy sector (gas prices in Indiana are up 48.3% in the last year) now want to manage the most innovative and dynamic sector of America's economy.
Aside from consumers, the bills also would hurt Hoosier businesses. Indiana's tech sector employs more than 112,000 people and adds more than $14 billion to our economy. Indiana's small businesses, which employ more than 1.2 million people, depend upon free or low-cost American tech products: social media, search tools, mapping and email to reach their customers; cloud storage to secure their cyber-infrastructure; and integrated distribution channels to deliver their products on time and often at no extra cost. The pending bills would raise operating costs for these businesses, leading to even higher prices for consumers.
Perhaps worst of all, these bills could open the floodgates to impose federal bureaucracy on more of the economy. Already, some in Washington are calling for crackdowns on "Big Meat," "Big Oil" and even "Big Baby Formula." Federal regulators, and some in Congress, have pharma and other health care companies squarely in their sights.
Rest assured that passage of the anti-innovation bills would mark the beginning, not the end, of Washington's efforts to micromanage the U.S. economy—with devastating consequences for Indiana. While Indiana is a conservative state, there is nothing conservative about these anti-innovation bills. The bills empower federal bureaucrats and help Chinese competitors at the expense of American companies.
The bills also break from tradition and the rule of law. For four decades, antitrust law has sought to protect the welfare of consumers, rather than individual competitors. This objective approach has helped to create a stable and predictable regulatory landscape that has turned America's tech sector into the envy of the world.
Perhaps for these reasons, most conservative, libertarians and free-market outlets and organizations strongly oppose these bills, including The Wall Street Journal, National Review, Townhall, and the U.S. and Indiana chambers of commerce.
America's tech sector and Indiana's economy are too important to get this wrong. Congress must consider the unintended consequences of this misguided legislation. Instead of seeking to punish our leading technology companies, Congress should work to lower the cost of doing business by promoting innovation and competition—that's the way to fight inflation and help Hoosier families.•
__________
Agarwal lives in Zionsville and is an adviser to the American Edge Project and a veteran of multiple Republican administrations in Indiana and Washington.
Please enable JavaScript to view this content.