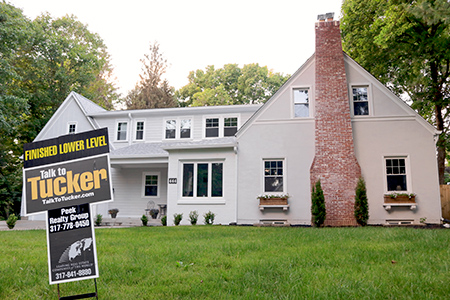 Sales of existing single-family homes rose 3.6% in central Indiana in July, snapping a seven-month streak of declining year-over-year sales.
Completed sales in the 16-county area increased from 3,459 in July 2018 to 3,582 last month, according to the latest data from the MIBOR Realtor Association.
July's decline followed a 6.9% year-over-year slide in June, a 2.6% decrease in May, a 1.9% dip in April, a 3.6% drop in March, a 2.3% fall in February, an 8.3% decline in January and a 6.6% contraction in December.
On a year-to-date basis, closed sales are down 1.9% in the area, to 20,026.
The total number of active home listings in the region dropped 2.1% on a year-over-year basis, to 6,015 at the end of last month. New listings were almost flat at 4,225, just two more listings than a year ago.
The median sales price for an existing single-family home increased 10.1%, to $200,295, marking the third straight monthly record, MIBOR said. The association is no longer reporting average sales prices.
Homeowners across central Indiana in July got an average of 98.1% of their original list price when selling their houses. That was down from 98.3% in June.
Homes spent an average of 36 days on the market, the same as a year ago.
Pending home sales were up 11.9% on a year-over-year basis, to 3,740.
Marion County
In Marion County—the most active market in central Indiana—closed sales in July rose 1.5%, to 1,312.
The median sales price in the county spiked 11.3%, to $167,000. New listings declined 4%, to 1,588.
The inventory of available single-family detached houses in Marion County rose 0.1%, to 2,081.
Other area counties
In Hamilton County, sales dipped 1.5%, to 699, in July. The median sales price jumped 8.6%, to $310,000. The inventory of single-family detached houses ticked up 1.4%, to 1,316.
In Hendricks County, sales slipped 7.8%, to 307, but the median sales price increased 7.8%, to $234,000.
In Johnson County, sales soared 23.1%, to 330, and the median sales price rose 16.7%, to $210,000.
Sales in Boone County rose 6.7%, to 127, and the median price of a home rose 12.5%, to $270,900.
Hancock County sales increased 4.3%, to 146, and the median price rose 18.2%, to $218,750.
Sales were up 11.7% in Madison County, to 153. The median sales price increased 10%, to $121,000.
Morgan County sales were up 13.4%, to 110, and the median sales price rose 11.4%, to $175,488.
Shelby County saw 56 closed home sales in July, up from 51 the previous year. The median price rose 13.2%, to $176,495.
Please enable JavaScript to view this content.