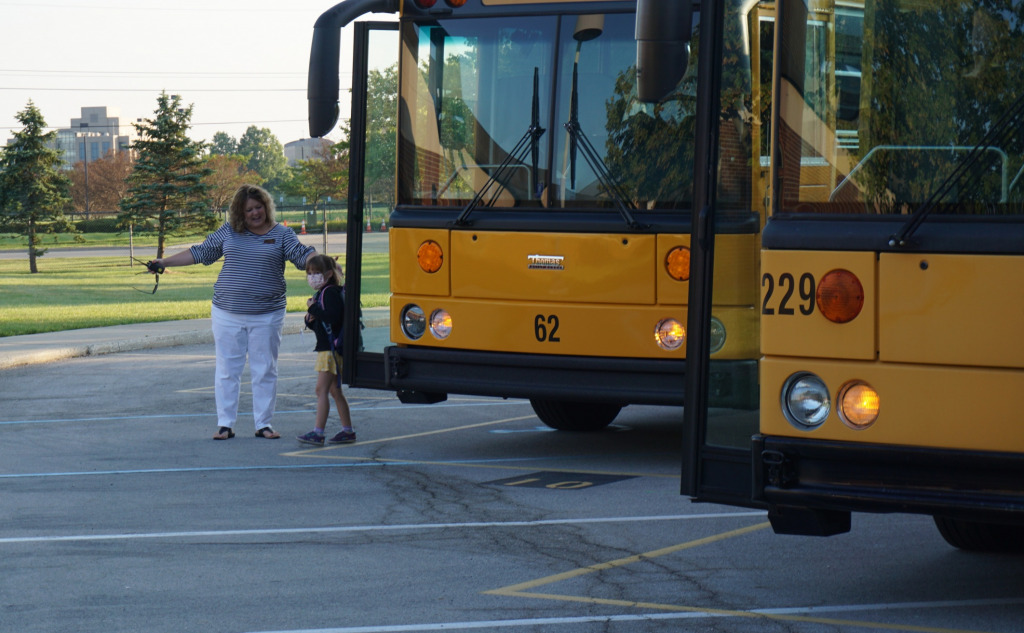 The ongoing labor shortage is exacerbating some central Indiana school systems' annual struggle to hire bus drivers and forcing some districts to make drastic changes.
Carmel Clay Schools announced this week that it was making multiple adjustments to its transportation system to accommodate a shortage of about 50 drivers. Carmel Clay Schools Assistant Director of Facilities and Transportation Gary Clevenger said the district is pairing systematic changes with hefty incentives in the hope it can grow from 130 drivers to the 180 it actually needs.
"In light of the shortage, we've implemented the largest percentage increase in bus driver pay in the last 20 years," Clevenger said.
Last year, drivers were paid $110.50 per day. This year, new drivers will make $118 per day, and current drivers could receive as much as $123 per day. There's also a 2% raise scheduled for next year, meaning bus drivers will see the highest two-year pay increase in the district.
"Part of that is acknowledging all the difficult work they have to do under difficult circumstances," Clevenger said.
Despite hosting hiring fairs and advertising its incentives, the dearth of willing and qualified drivers has proven to be too much, Clevenger said.
"We had a phenomenal turnout and got a lot of people hired on, but it felt like a drop in the bucket because it's been offset by retirements and resignations," Clevenger said. "Eventually, the hole gets deep enough that no amount of scrambling can fix it."
Beyond employee incentives, Clevenger said the school system has implemented a number of scheduling and rider-reduction measures to get students to school.
One such measure is a three-tiered system in which school start times were altered to allow for drivers who previously ran one or two routes a day to run as many as three. In recognition of the additional work, Clevenger said bus drivers have the opportunity to make a $25 stipend for each additional route.
The district is also plotting out "no bus zones," where bus services won't be offered to students living within a mile of their school. Parents on social media bemoaned the "no-bus" zones.
"With the limited number of drivers we have, there was no way to get the current number of students we're transporting to school on time," Clevenger said. "We tried modeling each of these by themselves to see if they solved the problem and we wouldn't have to hobble our way through the year. Unfortunately, no single one of them worked."
Carmel Clay Schools isn't alone in its need for additional drivers. Clevenger said many neighboring districts need as many as 30 additional hires each.
To the south, Washington Township Schools has seen a similar trend of bus drivers quitting during the pandemic. After attempting to recruit new drivers, the district is warning parents that their children's route might be altered, combined or serviced by various drivers.
The district is encouraging families to transport their children to and from school, if possible. In addition to allowing families to opt out of bus services, the district has made it a rule that students who do not ride the bus for two weeks will be removed from routes.
Washington Township is also looking to its current drivers and offering them $100 sign-on bonuses for proven referrals.
Marnie Cooke, director of marketing and communications for Noblesville Schools, said in a written statement that the district hasn't had to make the same changes as Carmel Clay Schools. However, the system is still looking to hire drivers.
"We're 6-7 bus drivers short right now, which is worse than where we typically are as we start school. Thankfully we are getting by and have not had to adjust routes in any way," Cook said.
Aside from the financial compensation, Cooke said Noblesville Schools' offerings to its bus drivers stand out from other districts for their health and retirement benefits.
Hamilton Southeastern Director of School and Community Relations Emily Pace Abbotts said her district had 375 drivers last school year, and only 350 this year. It could use approximately 10 to 15 more drivers, but all routes are covered. That's despite the fact that Hamilton Southeastern's starting pay is $98 per day, significantly less than what Carmel Clay Schools is offering.

"We're not really facing a shortage," she said. "If we had not flipped to the three-tier transportation situation, our director said we'd be in a pickle, too. Switching to that three-tier model freed up a lot of positions."
Unlike the restaurant, hospitality and other industries hardest hit by labor shortages during the pandemic, a commercial driver's licensure, training, random drug tests, physicals and federal background checks present a high barrier for those considering a job as a bus driver, Clevenger said.
As for the impact to parents who might now have to drive their children to school, Clevenger said he's sorry if they face scheduling conflicts. Now that he's in a no-bus zone, he said he'll have to start dropping his own kids off right around the time he's supposed to report for work.
"I know this puts a hardship on them," he said. "We're very sorry this is impacting our community, but there was no way around this."
Please enable JavaScript to view this content.